Fasts, feasts & fanfare
Janmashtami has various communities in the tricity dishing out both fun and feasts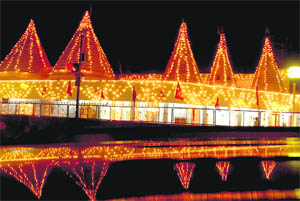 The excitement is building, as we prepare to celebrate the birth of Lord Krishna. Celebrated across the country-Janmashtami falls on the eighth day after Rakshabandhan and calls for midnight celebrations and bhakti gaan throughout the day. This day being special for the birth of the Lord, it sees various communities and devotees of the deity cook up a transcendental storm in their kitchens.

A temple illuminated on the occasion of Janmashtami in Sector 24

God gifted
Janmashtami is celebrated with enormous zeal and enthusiasm and d'Mart collection offers impeccable finished sculptures of Shri Krishna on this occasion. The range offered by d'Mart Exclusif is as follows:
Raining Rahman

Delhi once again resonated with A R Rahman's music as the Oscar winning masetro performed with acclaimed Bollywood singers at a concert here. "It is for the first time that I am performing with such a small band and with almost no rehearsals," Rahman said before the performance, organised to commemorate the golden jubilee celebrations of Doordarshan.
Holiday hungama
Prices fall for all, with this concept as the focus on the occasion of Independence Day, Amartex offers some respite to customers from the ever increasing prices of commodities.
Honour Bound
The Haryana Waqf Board, Government of Haryana, has bestowed the prestigious Fifth Khwaja Altaf Hussain Hali Award-2009 on acclaimed Panchkula-based litterateur Naresh for his contribution to Urdu language. The citation and cash award will be presented to him on August 19 at a function at Ambala.
Art of giving
The Chandigarh Lalit Kala Akademi invites applications from artists below 30 for its Scholarships for Budding Artists programme from any of streams — drawing, painting, mix media, installations, photography, graphics and sculpture.
Finger-dipping smooth
For all you 'cool hunters' waiting to check out the next 'hip' thing, try Krushers, a lip-smacking offer from the KFC! A unique range of chilled 'really thick, really tasty' beverages, Krushers promises to provide an overload experience of great taste and value. Made from a unique combination of chocolate, cookie bits, coffee, dairy and ice, this provocative, lip smacking range of beverages is available in three mouth watering variants.
Side Lanes
Climbs & courage
In 1961, my father, Kashi Nath Dutt, was principal of the Government Mens' College, Ludhiana. At that time, women were allowed admission only in the Post Graduate classes. As this restricted their numbers, each female student had a host of male admirers. This was good for our morale and we all considered ourselves to be some sort of beauty queens. During youth festivals and annual plays, we were greatly sought after for the women's roles.
Hello Tunez
Pick hai, par hit hai!
Love Aaj Kal (Eros Music): You have to hand it to Pritam. Even when he is criticised severely for lifting tunes, he goes on about his task unmindful. Here he does the chore through the "been" played at the opening of Twist (Neeraj Sridhar). It is lock, stock and barrel from the old classic, Tan dole mera man dole.