Remembering Jatin Das
Satarupa Sanyal's The Immortal Martyr Jatin Das is a classic example of
a biographical documentary, writes Shoma A. Chatterji

THOUGH several feature films and documentaries have been made on Bhagat Singh, few Indians even know the name of a close associate of Bhagat Singh who made explosives and handed them to Bhagat Singh for his revolutionary activities during India's struggle for independence. His name is Jatin Das. He died of a self-imposed hunger strike for 63 days at a stretch, refusing even a drop of water, at Lahore Jail on September 13, 2009. His strike was to gain status for political prisoners who were brutalised, tortured and humiliated by the British officers and their Indian subordinates in jails across India and were treated worse than normal criminals were.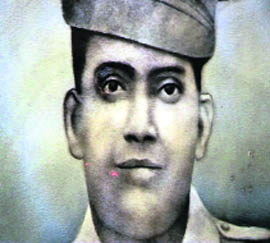 To break this strange silence surrounding the martyrdom of Jatin Das, filmmaker, music director, scriptwriter Satarupa Sanyal has made a 35-minute documentary Immortal Martyr Jatin Das, produced by Films Division that was premiered at Kolkata's Gorky Sadan. "We are supposed to celebrate the 80th anniversary of Jatin Das' martyrdom," said Satarupa at the premiere. "Yet, few among today's generation know anything about him beyond the fact that there is a Park and a Metro Station in Kolkata named after him. So, I decided to break this long and unfair silence on one of our greatest martyrs by making a documentary on his life," she added. Prof K.C. Yadav cooperated as subject specialist.
The film traces the birth, evolution and growth of this young man from his family in Kolkata, to his truncated education, warped by the involvement in the freedom struggle yet coming out in flying colours every time. Satarupa traces the life of Das in a straightforward narrative dotted with fictionalised insertions of how he loved to keep his pockets filled with sweets and peanuts that he would keep munching all the time and also distribute across to kids and friends. This stands in irony against the hunger strike where, the young man who loved to eat died of hunger at the young age of 25 for a cause he believed in — to draw attention to the misdeeds of the British rulers as one step forward in gaining independence.
She has sketched a portrait of a young man first drawn to Gandhian ideals of non-violence to shift to armed revolution by acquiring expertise in making bombs under the guidance of another freedom fighter, Sachindranath Sanyal. Das was arrested as one of the 10 accused who robbed the railway treasury on 9th August 1925 from a train in Kakori in Uttar Pradesh. He was later transferred to Mymensingh jail where he and his colleague Pannalal Mukherjee underwent a 20-day hunger strike to protest the mistreatment of political prisoners. They were later transferred to the notorious Mianwali jail in West Pakistan but were released in October 1928.
On April 8, 1929, the Central Legislative Assembly was shaken up by the bomb blasts and anti-Imperialist slogans of Bhagat Singh and Batukeswar Dutta. They courted arrest and were sent off to Lahore Jail where Das joined them soon after. The revolutionaries demanded that they be given the status of political prisoners. Bhagat Singh and Batukeshwar Dutta began their hunger strike on June 14, 2009. Jatin Das and 10 other revolutionaries joined them, announcing that they would fast unto death. On the 14th day of the hunger strike, the jail doctor with the help of six strong men, tried to force-feed Das but Das resisted so strongly that his lungs got punctured and he fell severely ill. Bhagat Singh and the others called off the strike following assurances from the government. But Das did not bend because he was dissatisfied by the assurances, and finally laid down his life, reduced to a living skeleton, on the lap of his younger brother Kiron Das.
In keeping with his dying wish, his body was brought in a train to Kolkata for cremation. Netaji Subhas Chandra Bose funded the Rs 600 the railways had asked as charges for the transportation. Thousands of people had gathered in the station, on the streets of Kolkata, in a mile-long procession to catch a last glimpse of their beloved leader.
The flashbacks are captured in monochrome by the excellent camerawork of Shamik Talukdar while the dramatised sequences are factually presented without bias or sentimental melodrama. The film is filled with newspaper clippings covering his capture, his fasting in Lahore jail and archival footage of his slow and sure death of willful starvation. Interviews with some freedom fighters who had interacted with Das, with his younger brother Kiron in 1979 and with other colleagues have enlarged the canvas of the film, highlighting the distinguished persona of this great man.
Satarupa's musical score for the film is outstanding, especially the recorded version of Tagore's hey bhairab, shakti dao, which the poet laureate composed on hearing of Das's martyrdom in jail, postponing the rehearsals of his play Tapati at once. There are archival shots of Tagore pacing restlessly on the grounds of Santi Niketan. Satarupa has not made any attempt either to glamorise the man or to sentimentalise his contribution. This directorial restraint has made The Immortal Martyr Jatin Das a truly wonderful effort, a classic model of a biographical documentary.