PUNJAB
HARYANA
JAMMU & KASHMIR
HIMACHAL
REGIONAL BRIEFS
NATION
OPINIONS
LETTERS
BUSINESS
SPORTS
WORLD
Monday, September 21, 2009, Chandigarh, India
Updated at 3:00 am (IST)

Our nukes in place: NSA
Dismisses doubts on efficacy of Pokhran-II
New Delhi, September 20
Quelling all doubts over countryís nuclear abilities, National Security Advisor MK Narayanan has emphasised that India has thermonuclear capabilities, adding that the scientists who questioned the success of the 1998 nuclear tests in Pokhran had personal motives to do so.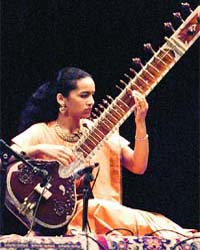 Mumbai man held for blackmailing Anoushka
New Delhi, September 20
Police have arrested a Mumbai businessman for allegedly blackmailing sitar player Anoushka Shankar, daughter of legendary musician Pandit Ravi Shankar. The accused, Junaid (29), allegedly used some of Anoushka's photographs to blackmail her after hacking into her e-mail account, police said today.
CAST YOUR VOTE
Is the government serious about unearthing black money in Swiss banks?


EDUCATION
JOBS & CAREERS
HEALTH & FITNESS
SCIENCE & TECHNOLOGY
REAL ESTATE
SPORTS
AQ Khan admits to Pak link with Iran, N Korea
London, September 20
In a damning revelation of Pakistanís nuclear proliferation, its disgraced scientist A Q Khan, the father of the countryís nuke weapons programme, has admitted to the Pakistani nexus in the controversial atomic programme of Iran and North Korea, a media report said today.
Iíll never abandon Soniaji: Lalu
Patna, September 20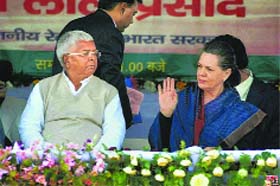 RJD chief Lalu Prasad, who met Congress president Sonia Gandhi, today said the two parties had strong bonds and that like-minded secular forces should come together to keep the NDA at bay.
NDA 60 Glorious Years
1857 The First Challenge
E - Revolution 2005:
A Two-day IT conclave
Assembly Elections - 2005
Turbans
Chandigarh is 50
125 Years of The Tribune
India: The Tasks Ahead
India at Sixty
A Tribune Supplement
EARLIER FEATURES
On Sundays
On Saturdays
Gold lures investors
Chandigarh, September 20
High prices of the yellow metal notwithstanding, gold is fast emerging as a major investment option for investors in the region. Despite prices having risen by almost Rs 4,000 per 10 grams since last year, dollar volatility and fall in general demand for jewellery, retail investment demand for gold has taken a sharp upswing. According to rough estimates, daily trading in gold futures from Punjab and Chandigarh region is to the tune of Rs 1,200 crore to Rs 1,300 crore.


Oz ministersí mission damage control
Rising violence, dubious education institutions tarnish Melbourne's multi-cultural image. The safety of Indian students and corrupt practices by private colleges is expected to figure prominently during the official visits of Victoriaís Premier John Brumby and his Minister of Skills and Workforce Participation, Jacinta Allan, both of whom will separately arrive in India this week on official visits that will last more than a week each.
No real threat, leaders in touch: Govt
September 20, 2009
BSF, Pak Rangers hold flag meeting
September 19, 2009
Nitish stunned in Bihar
September 18, 2009
US rings nuke alarm bells
September 17, 2009
PM: Maoist menace gravest threat
September 16, 2009
DGPs draw PC flak
September 15, 2009
Chinese at work on border
September 14, 2009
CJI: Certainty of punishment can check corruption
September 13, 2009
Punjab Guv to lose UT charge
September 12, 2009
Stampede kills six girls in Delhi school
September 11, 2009