This Above alL
The man behind soaps
Khushwant Singh

I have happy memories of my three-year association with Manohar Shyam Joshi. Both of us were working in The Hindustan Times building on Kasturba Gandhi Marg. Every other evening before offices closed, Manohar would drift in to see me. He always seemed to be in a dreamland and wafted in as if walking in the air. He began the dialogue with a one-word question: "So?" It could have meant, "so, how are you?" or "how are things?" or "how is the world going?"
So the best answer I could think of is chalta hai. Since I did not read Hindi, I did not know what he had written because none of his works had till then been translated into English. Once he asked me to do him a favour. He had written a TV serial, Hum Log, the first family soap opera in Hindi. He wanted me to meet its producers, and see the serial. I did, and wrote a glowing review. Soap operas caught on. Shyam went on to write more like Buniyaad and Mungeri Lal Kay Haseen Sapney. He became a national celebrity.
In 2005, he won the Sahitya Akademi Award for his novel Kyaap. His earlier novels and short stories — Kasap and Kuru Kuru Swaha — went into several editions. By the time he died in 2006, he was recognised as the first and the most innovative writer of Hindi. I knew very little about Shyam Joshi's works till I read T'ta Professor translated by Ira Pande. I was most impressed by his portrayal of middle class people — in this case teachers of a village school, their rivalries and affairs with lady colleagues and students.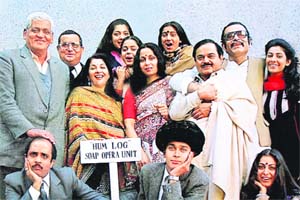 It was my first exposure to the Kumaon's Brahmins — Pandeys, Pants, Joshis, Tiwaris — who, like Brahmins of other parts of India — Ojhas, Tandons, Dwivedis, Trivedis, Chaturvedis, Iyengers, Aiyars, Chitpavans, Namboodris, Chatterjees, Mukherjees and Bannerjees — regard themselves as a cut above the others. Kumaon Brahmins are a handsome, brainy lot, but inbreeding has also produced eccentrics who provide material for gifted writers like Manohar Shyam Joshi.
His novel, the second to be translated into English, The Perplexity of Hariya Hercules (Penguin), is about Harihar Datt Tiwari, better known as Hariya Hercules, because he rides a bicycle of that brand name. He is a borderline case of mental retardation with the ability to perform his daily chores. He is the sole surviving son of his father Rai Sahib Giruan Datt, who rose from a clerk to become minister of a princely state.
Hariya's daily duties included clearing up his chronically constipated father's bowels with enemas. His father rewarded him with abuse and called him half mad. After that Hariya sets out from his house in Gole Market to call on distant relatives and friends to convey the news of his father's health. Everyone finds him a crashing bore, and does his or her best to get rid of him.
Ultimately Rai Sahib breathes his last, and Hariya, whose other qualification is cremating the dead, performs his father's last rites. Family disputes begin when Hariya finds the key of his private box wrapped in shit-soiled langoti. The box yields a treasury of gold, jewels, packets of turd, pornographic pictures of his father in action with different women, and a letter from a lama about some deity called Goomalling, to whom all the treasure has to be returned.
There is no limit to Manohar Shyam Joshi's over-fertile imagination. The novel is very well translated by Robert A. Huechstedt, professor in Hindi in Virginia University. It makes a delightful reading.
Raj Dungarpur
I met him a few times and found him a most affable and courteous gentleman. I knew he was a big shot in the cricket world. He was a former president of the BCCI, and much respected by everyone who knew him. Every time I met him he was with Lata Mangeshkar.
Once some paper carried in its gossip column that they were married. When questioned by a newshound, he replied in his usual Rajput chivalrous manner: "I would feel honoured if it was true. Actually, we are close friends. I admire her and cherish her friendship." Or words to that effect.
Some years ago I ran into them in Muscat. I had been invited by the Indian Association to deliver a lecture on Allama Iqbal soon after the publication of my translation of his two long poems — Shikwa and Jawab-e-Shikwa —under the title Iqbal's Dialogue with Allah . Having fulfilled my assignment, I had time to look around and do what I wanted.
There was a cricket match between India and Pakistan. So I decided to watch it. I was surprised to see the stadium packed to capacity, largely with Pakistani supporters and their friends. Such matches often become Muslim versus the rest. The stadium resounded with thunderous choruses — Pakistan zindabad and Allah-O-Akbar. I took my seat in the last row. Raj Dungarpur and Lata Mangeshkar were in the front row. He came over and sat beside me.
When three Pakistani opening batsmen were bowled out, there was a deadly stillness in the stadium. Raj said with confidence: "They are done for. India is sure to win." However, the fourth and fifth Pakistani batsmen began hitting sixers and fours, and changed the complexion of the game. I wanted to stay till the end and see how the Indian side performed. But Raj would not stop talking. So I decided to return to my host's home.
"I have had enough of cricket for the day", I said by way of apology. "I will see the outcome in tomorrow's papers." Raj Dungarpur's expert opinion that Pakistan was done for proved wrong. Pakistan beat India by a wide margin.