'Cancer train' a lifeline for stricken patients
Kulwinder Sandhu
Tribune News Service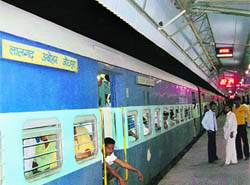 Cancer patients from various towns of Punjab travel on this Lalgarh-Abohar-Jodhpur train no. 339 to a hospital in Bikaner for treatment. Photo by writer
Bathinda/Bikaner, September 30
There was little hope of survival for 17-year old Sukhjit Singh, a resident of Ramuwala Kalan village in Moga district who was diagnosed with blood cancer earlier this year. However, as soon as his parents came to know about a cancer hospital located in Bikaner the three boarded the Abohar-Jodhpur passenger train at Bathinda on the night of May 12 this year and reached the desert town in Rajasthan the next morning.
The train on which this young boy travelled for treatment at the hospital is popularly known among locals as the 'cancer train', which ferries at least 60 cancer patients every day from Punjab to Bikaner. Though the train has no airconditioned coach and has only one sleeper class bogey it serves the needs of those afflicted with the deadly disease on a daily basis.
Beginning its journey from Abohar at 7:40 pm, the train passes through Pakki, Malout, Gidderbaha, Bathinda, Ramanal, Gursar Shnewala, Sangat Mandi, Bagwali, and Mandi Dabhwali in Punjab's cotton belt before it enters Haryana and arrives in Rajasthan.
This reporter travelled along with the cancer patients on this train last week to know what motivated them to go all the way to a dusty town in Rajasthan for being treated.
Sukhjit's uncle, Raghuvir Singh, said doctors in Moga and Ludhiana could not properly diagnose his nephew's ailment and both ended up spending a lot of money on one or the other clinical test. "I was then told by one of my relatives that the treatment provided by a cancer hospital in Bikaner was much cheaper and it also had good doctors. Therefore, we decided to go there immediately," he said.
Doctors at the Acharya Tulsi Regional Cancer Treatment & Research Institute, Bikaner, a state run hospital funded by the central government, diagnosed Sukhjit as having blood cancer and began his treatment accordingly.
The boy, who could not even stand on his feet and complained of severe joint pains and intermittent fever, has now almost recovered from the disease. Though he had dropped out of high school he recently enrolled in a diploma course in an engineering college, securing 80 per cent marks in the very first semester.
Like him, there are thousands of other cancer patients from this primarily agrarian state for whom the 'cancer train' and the Bikaner hospital has helped in getting their lives back to normal.
Travelling in the train with his wife Inderjit Kaur, 44, and sitting next to my seat, Dalip Singh, who runs a small departmental store in Malout in Muktsar district, said his wife was diagnosed with breast cancer in June this year.
"Treatment at a private cancer hospital in Ludhiana would have been very expensive and was beyond my means. So I borrowed Rs 20,000 from a friend and took her on this train to Bikaner. Doctors at the cancer hospital in Bikaner performed surgery on my wife and didn't charge even a single penny for the operation. What's more, the hospital staff gave us one litre of milk daily free of cost and meals costing a nominal Rs 5 during all the days she was admitted in the hospital", said Dalip.
"After the surgery hospital officials also gave us a certificate that entitled both of us to get a 50 per cent discount on the train fare for the return journey. So far I've spent only Rs 45,000 on medicines and post-surgery care for my wife during the past three months. This figure could easily have been ten times higher had I opted to get her treated got treatment at Ludhiana or Chandigarh", said a visibly happier Dalip.
Similarly, Surjit Singh, a resident of Sarawan Bodla village in Muktsar district, was taking his 65-year old mother, Jasveer Kaur, on this train for a medical checkup as she had developed some complications three years after her uterus was removed due to cervical cancer.
"After she complained of severe joint pain and stomachache for the first time in 2004 we took her to many hospitals in Punjab but doctors there couldn't diagnose her disease properly. We finally decided to head for the Bikaner hospital where she underwent a hysterectomy in June 2006," he said.
"For the next two years she was fine and didn't complain of any problem. However, for the past few months she had again started complaining of pain in the stomach. Instead of wasting our time and money in going to hospitals in various cities in Punjab we are again taking her to Bikaner for treatment", he added.'Cancer train' a lifeline for stricken patients.
Affordable treatment
Acharya Tulsi Regional Cancer Treatment & Research Institute head Dr RK Chaudhary told The Tribune the hospital provided treatment that was significantly less expensive than that offered in hospitals in Punjab and elsewhere.
"Charges for all clinical tests are half of those in other hospitals. We also give discounts ranging between 15 to 30 per cent on all medicines and surgical equipments. For example, the charges for radiotherapy (daily sittings) are only Rs 1,000 for 45 days, whereas in Punjab patients have to pay as much as Rs 1,000 daily for each sitting in a private hospital", he said.
Chaudhary expressed concern over what he called the "prevailing nexus" between doctors, clinical laboratories and chemists in Punjab, which he said had undoubtedly increased the treatment costs of cancer and other diseases.
According to him, on an average 225 to 250 cancer patients - both old and new - visit this hospital daily. Of this number about 100-odd patients come from Punjab, most of them from the Malwa belt. On an average almost a third of the patients visiting the OPD undergo surgery, he added.