M A I N N E W S
After drought, rain threat
With paddy, bajra at harvesting stage, rains can affect quality of grain
Vibha Sharma
Tribune News Service
New Delhi, October 2
Heavy rains in coastal states of Karnataka, Andhra Pradesh, Maharashtra and Orissa have claimed several lives, causing massive damage to standing kharif crops and property, and now there is some not-so-good news for farmers in the northwest.
Northwest, comprising Punjab, Haryana, Himachal, J&K, Uttarakhand, west UP and Rajasthan, is likely to experience heavy rains from October 4, says the Meteorological Department. Agriculture experts caution that these rains will not be good for the region, where kharif crops are at a critical stage. While paddy and bajra are in the harvesting stage, cotton is also in the "picking" phase, they say.
Bharti Kisan Union president Balbir Singh Rajewal explains that in Punjab and Haryana, paddy, cotton and potato crops are on the verge of harvesting and any rains now can prove to be very harmful for them.
"Paddy harvesting season has begun and will continue throughout October. If heavy rains occur, the quality of grain will deteriorate and yield will also reduce. Even if rains are not so heavy, the quality of the grain will still be affected. And if rains are also accompanied by winds, the standing crop can suffer even more damage. Farmers have a saying that during this period even a drop of gold is not welcome," he says.
Rajewal's advice to farmers is that stop irrigating their fields. "In case of heavy winds, at least paddy stalks will not fall. This is the best that can be done at this point of time," he says.
The rains during this period are due to a fresh low-pressure area, which is likely to form over west central Bay of Bengal and neighbourhood around October 6. The IMD says due to the likely interaction of an upper air cyclonic circulation and a western disturbance along with high moisture feed from the Bay of Bengal, fairly widespread rainfall with isolated heavy to very heavy falls is likely over northwest India between October 5 and October 7.
IMD Director SC Bhan says rains can well begin by October 4 and in some areas, mostly in hills of Uttarakhand, Himachal and some places in east Rajasthan, Haryana and West UP in particular, may experience very heavy rains
While the Met Department says this year's erratic monsoon a normal variability, experts believe there is extreme variability at a sub-regional level that is making predictions more and more difficult and suggest that India must move quickly to increase its predictive capacities and find coping strategies for people across the country.
CSE climate change coordinator Kushal Yadav cautions that the amount of useful rainfall available to farmers may decrease in future. "Instances of extreme rainfall incidences in India are rising and at the same time moderate monsoon rainfall events reducing, by about two incidents per year. For instance, Orissa has experienced 1ºC of average rise in temperature between 1951 and 1990, with more frequent and intense cyclones. On the other coast, Maharashtra now has more rains in May, June and July."
"Also, events like the flooding of Mumbai in 2007 have increased by 10 per cent per decade in the past 50 years. These trends suggest that even if the total rainfall is not decreasing in the country, what is decreasing is the number of rainy days. It means that the same amount of rain will come in lesser days, leading to floods and extreme events," Yadav says.
112 die in AP, Karnataka
Tribune News Service/IANS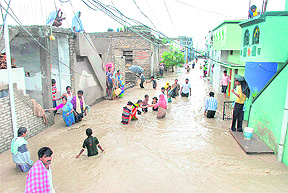 A flooded street in Kurnool, AP. — PTI

Hyderabad/Bangalore, October 2
Flood situation in Andhra Pradesh turned grim today with Krishna river receiving highest inflows in the last century, leading to inundation of several areas in the state even as helicopters and boats were deployed to rescue hundreds of people marooned in north Karnataka, battered by heavy rain since Wednesday. While 26 persons have so far died in Andhra Pradesh, the death toll due to torrential rain in Karnataka has risen to 86 - 112 rain-related deaths in the two states.
In Andhra Pradesh, Kurnool and Mahaboobnagar districts bore the brunt of flood fury with over 30 villages being marooned and 350 tanks breached while flood threat looms large over Krishna, Guntur and Nalgonda districts. In Kurnool town alone, about 25,000 persons were today trapped.
The situation was particularly serious in Kurnool city, about 250 km from Hyderabad, with flood waters inundating the low-lying areas even as the Army and Indian Air Force were pressed into service to rescue the marooned people.
The inflows at Srisailam reservoir across Krishna river touched 22.3 lakh cusecs this evening, the highest in the history of the state. The floods in Tungabhadra, a tributary of Krishna, added to the misery of people, especially in Kurnool and Mahabubnagar districts.
Chief Minister K Rosaiah said the flood situation was "grim" and the government had sought the help of the Army and IAF in the relief and rescue operations.
Six IAF helicopters were pressed into service to rescue the stranded people in the flood-ravaged areas. Rosaiah spoke to Defence Minister AK Antony and Union Home Minister P Chidambaram to seek the help of defence and paramilitary forces for rescue operations.
Over 120 personnel of National Disaster Response Force, based at Arakkonam in Tamil Nadu, arrived here to help the state authorities in rescue operations.
And in Karnataka, as per reports reaching the state disaster management office here, the majority of deaths till Friday morning occurred in Bijapur, Gulbarga, Raichur, Koppal, Bagalkot, Bellary and Bidar. The pilgrim centre of Mantralaya on the banks of the swollen Tungabhadra river in Raichur district, about 450 km from here, was submerged. Devotees planning a visit have been asked to stay away.
Chief Minister B.S. Yeddyurappa on Friday met senior civil, military and police officials here to decide the plan for rescue and relief operations in the seven affected districts. The state government has released Rs 100 crore to provide immediate relief.
Unofficial reports, however, said at least 100 people had been killed, mostly washed away or in house collapses. The reports also put the number of houses damaged at around 15,000.
Though the southwest monsoon season, which began in June, usually withdraws from the Indian subcontinent around this time but a depression in the Bay of Bengal and heavy cloud formations in the Arabian Sea have led to heavy rain in Karnataka. — IANS