Let the light shine
You've bought candles & diyas by the dozen and rice lights by the metre but there's something missing. Why restrict the Festival of Lights to open spaces? Here's how to jazz up the interiors with lamps, lights and chandeliers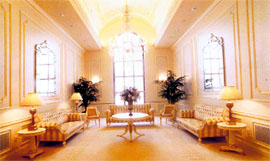 Looking for dazzling ideas to brighten up your mood and your house this Diwali? Well, just think of brilliant initiatives beyond intelligent psychedelic lights. Imperative, yes they are. Bright, undoubtedly! Common? You don't even have to ask that. Ever since the Chinese invaded the Indian arcades with glittery lights, the bulbs have lost somewhat of their unique sheen. Look around, and you find almost all the houses in the vicinity garlanded with blooming lights!
TAX TIPS


If you buy agricultural land, capital gain exigible to tax

Build house within three years of sale date

Adopted son sure can inherit ancestral property

Difficult to prove will not valid

To save LCGT, buy house in father's name

For conveyance deed procedure, contact PUDA
Reality of Realty
Irony at its peak
Militancy displaced lakhs of people in the Valley but the mass migration worked wonders for realty in Poonch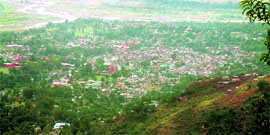 While Jammu and Kashmir battles bullets and bleeds, migration due to militancy has sent land prices spiralling in Poonch, one of the last towns on the Indian side. Thousands of residents of rural areas, particularly Mendhar, Bufliaz, Surankote and Mandi, migrated to the comparatively safer frontier township.

A view of Poonch town.
Green House
Owner's Pride!
Diwali is also the time to show off your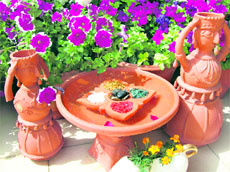 garden. Jazz up nooks and crannies with terracotta bric-a-brac and highlight with traditional diyas burning bright
Everyone is looking forward to the festival season. Homemakers are working overtime on how to decorate homes – after all, the decorations have to be different from what was done last year and, of course, better than Mrs Gupta's! It is also a busy time for gardeners. No doubt houses are illuminated, but effects in the garden and decorations can only be enjoyed if there is proper planning.
Most wanted Affordable housing
Housing demand in under Rs 25 lakh segment to rise up to 30 pc in next three months
Housing demand, which has been hit by the economic slowdown, is expected to rise up to 30 per cent by the end of this year with maximum demand being seen in the price bracket of Rs 5-25 lakh, says a Ficci survey. "Affordable housing seems to be flavour of the day. Not just among the political class, but among the real players at the ground," Ficci said in a statement.
Inching back to normal
The festive season approaching, the real estate business shows signs of revival in Jaipur. The bankers' decision to reduce the rate of interest against the home loans appears to have triggered the turnaround. The trickle of customers, which had long dried up, has turned thick.
NRIs, come home!
Citibank announced the presentation of its 'IndiaHome Property Exhibition' in Dubai.The exhibition organised by media agency Middle East and Signature Events, will be held over the weekend of October 9, 10 and 11.