M A I N N E W S

Battle of ballot hots up
Prabhjot Singh
Tribune News Service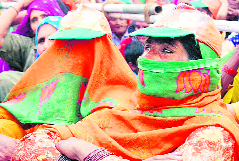 Chandigarh, October 10
The battle of the ballot in Haryana, scheduled for October 13, is gradually turning fiercer even while the ruling Congress, though under severe attack from the Opposition for acute power crisis and rising prices, is hopeful of returning to power.
Interestingly, two of the main Opposition parties - the Indian National Lok Dal (INLD) and the Bharatiya Janta Party (BJP) - who drew a blank in the last May general election to the Lok Sabha, too are exuding confidence. Their confidence stems from the turnouts and enthusiastic responses to their rallies and campaigning in rural and semi-urban areas.
Kuldip Bishnoi's Haryana Janhit Congress (HJC) that wrested the only seat that went to a non-Congress party in the Lok Sabha elections is also nurturing hopes of an improved show in the assembly elections.
If the turnout at election rallies is any indication, all Opposition parties are bragging about impressive turnouts at their main rallies, getting enthusiastic response from all sections, especially the youngsters and first-time voters. Though the Congress might have explanations for less-than-expected turnouts at the rallies of Congress president Sonia Gandhi and Prime Minister Manmohan Singh, it is using its performance of the past four-and-a-half years as its trump card.
Campaigning has picked up pace more in semi-urban and rural areas than in major cities. While a war of hoardings is common in all major cities, semi-urban and rural areas are witnessing daily show of strengths by candidates who take out processions by their young brigade of followers on their motorcycles with party flags fluttering.
In Pehowa, for example, both BJP and INLD had their young followers criss-crossing the town on their motorbikes.
Some senior Punjab leaders, including those from the ruling SAD and BJP alliance as well as the Congress, corroborate the common impression that the battle is becoming tougher and fiercer than what was the situation predicted a couple of months ago.
In Kaithal, for example, while the deputy chief minister Sukhbir Singh Badal, addressed a couple of rallies in support of the INLD candidate, Congress MLA from Nabha Randeep was there to canvass for his namesake Randeep Surjewala.
Navjot Sidhu addressed a series of meetings in favour of BJP candidates while Punjab's Leader of Opposition Rajinder Kaur Bhattal and MP from Anandpur Sahib, Ravneet Singh Bittu, too, have been canvassing for Congress candidates.
Major issues raised at Opposition rallies include rising prices of essential commodities, acute power shortage and lop-sided development of the state while Congress leaders harp on about their achievements maintaining that they took care of every section of the society and efforts were taken to make the state self sufficient in power supply by 2013.
Opinion on division of votes and benefiting political parties vary from constituency to constituency. While Opposition parties believe that both BSP and HJC will eat into Congress votes, ruling party supporters hope that the vote-divide between the INLD-Akalis and BJP would benefit them.