Creative vision
It is these special children from various schools in the city who make Diwali brighter for many of us and how!
Festive season is a special time of the year. Special for special reasons, but one thing that this season of lights and delights does is to spreading the feel of joy, especially among these specially abled students from the city who through their creativity light up the celebrations for many.


— Photo: Pardeep Tewari

Light moment
They may not be able to see, but these children bring us light
Floating candles in different colours and designs, especially animal shaped ones, are a big hit with the city kids and guess what make these candles really special- the hard work of special kids who have been working since two months to manufacture these candles- not only out of interest but also to run their school in a better way.


Students of Kainthal School, Patiala, purchasing candles manufactured by deaf and dumb kids from a stall in their school — Photo: Rajesh Sachar


Chiraag couture
The humble diya has gone so very designer that it can even burn a hole in your pocket! Sample its myriad shapes and styles…
Nothing quite says light better than the flicker of candle and glow of a diya. Lending that flavour of festivity, creating warmth, hope, relaxation and comfort, it's the candle and diyas that spell Diwali for us Indians.


designer Diyas

: (L) Diwali lamps spell sheer luxury with these kundan-look artifacts — Photo: Parvesh Chauhan

Vanity flair
The bi-annual event is back once again with almost the same stuff but new packaging
It was Vanity (Fair) once again, an bi-annual exhibition of Indo-western wear, accessories, artifacts, home accessories and more at Whispering Willows, Zirakpur. More or less the same affair every year with minute changes here and there, the fair sees almost the same faces, of buyers and sellers.


Clutch it: This clutch from ANZ is made from corals and mother of pearl. — Photos: Vinay Malik


Whither willows!
What do the well-heeled do when they find no space for their wheels…
Call it plastic Punjabiyat or a scene that's quintessentially Yash Chopra: glamour queen descending into sarson ke khet to do a Dil Bole Hadippa. Well, we're not talking of film shoots here but of the scene from the bi-annual presentation, Vanity Fair.
Having a field day: With a convoy of cars making it to the Vanity Fair, the paddy fields around Whispering Willows turned into a parking lot.

Crack the fun
Eco-friendly crackers make a mark
The anti-cracker campaign in run up to Diwali has grown over the years and sensing which way the wind is blowing, firecracker manufacturers have come up with an "eco-friendly" version which will let you enjoy the festival without worrying about the cost to the nature. "People have become aware of environmental issues, so we have introduced a wide range of eco-friendly crackers which are safe, non-polluting and cheaper," Gulsher Azad, who runs a wholesale business, told PTI.


Dragon in less demand
Dim demand for Chinese decoratives this Diwali
The global slowdown seems to have held back the colourful Chinese dragon that used to rule Diwali shopping in the national capital. The confetti of cheap Chinese goods like electric streamers, gift items, idols of Hindu deities like Ganesha, Lakshmi and Shiva, crockery and other decoratives in the markets has failed to spark demand, unlike the preceding years.
Discount deal
India's third largest PC brand Acer today announced the launch of its special Diwali offer. This Diwali, Acer, offers its customers great cash back on purchase of Aspire Notebooks across India. As per this offer, customers can avail a discount of Rs. 1000 on all Aspire series of Notebooks.
Spinning wheels of words
Art lovers eulogise Inderjeet Singh Hasanpuri as an epoch-making Punjabi writer
After the legendary Punjabi poet Nand Lal Noorpuri, none of the Punjabi lyricists have elicited as much admiration of art lovers as the invincible poet Inderjeet Singh Hasanpuri, whose sudden demise marks the end of an era of meaningful lyricism in Punjabi.


Buddha beckons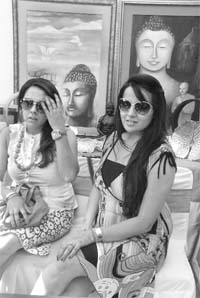 These women enjoy a moment of serenity in a stall that has artifacts and paintings of Buddha behind them. Lifestyle Photo: Vinay Mailk
Something for everyone
What all are you looking forth to buy on Diwali? Clothes, home décor stuff, furniture, handicrafts, crockery, eatables…just about everything is available at the Diwali shopping cum kids festival on at Sector 34. A must check here is Aditi Kalakriti, which has on display a variety of artwork.
Confessions of an icon
On his 67th birthday, the Big B of Indian cinema shares his ups and downs; highs and lows with Lifestyle
Completing four decades in acting is not an easy task. By the blessings of almighty and unending love and affection of countless admirers I have been able to sail through all these years. No, I will certainly not call myself a mega star or the most prolific actor of the nation.
And the award goes to...
Yash Chopra honoured as filmmaker of the year
Indian movie mogul Yash Chopra was honored as filmmaker of the year by one of Asia's top film festivals. Pusan International Film Festival director Kim Dong-ho presented the award to the 77-year-old veteran director and producer at banquet in the South Korean beach resort city.
Preity, my favourite!
Bollywood superstar Salman Khan says that actress Preity Zinta, who has done an item number in his upcoming film Mr and Mrs Khanna is his favourite co-star. The actor, whose last film Wanted has been a box office hit, revealed his fondness for Preity, whom he described as a blunt but happy person, on an episode of Dus Ka Dum.
Picks & piques
Acid test
Inspired (read copied) by Columbian film Unknown which was as good as it's name both critically and at the International Box office, this Sanjay Gupta produced venture is built basically on a lot of hot air and nothing else.
Matka chowk
Gift evolution
Gift business is a booming business in our city. I read with interest, accounts of the shopping spree that engulfed the city on the eve of Karva Chauth. Nothing ordinary for the women of this extra-ordinary city. Gone are the times when women wanted decorative bangles and a nice suit for Karva Chauth.
LAUNCH PAD
Sleep well
Godrej Sara Lee has announced the launch of its new ad campaign for 'GoodKnight Naturals', a moisturizing mosquito repellent cream. Mosquito repellent creams are generally chemical based and not so skin friendly.
Gift wrapped
UK-based brand of home furnishings Rosebys, introduces a set of dazzling gifts for your loved ones this Diwali. The collection offers a widespread range of accessories, including table lamps and candles.
Walk it out
Clarks, an 180 year-old brand of footwear from the UK known for its comfortable footwear, offers a range of formal and casual footwear for men and women. Since its beginning in Somerset street, Clarks has been manufacturing and retailing comfortable footwear around the world.