M A I N N E W S
Terror Thursday in Pak
n Bloodbath in 3 cities; 39 dead n Lahore under siege
n Suicide blast in Kohat n Car bomb rocks Peshawar
Afzal Khan writes from Islamabad


Terror Trail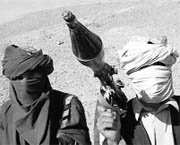 Oct 15: Gunmen attack 3 police buildings within 15 minutes in Lahore, leaving 25 persons dead. Eleven persons are killed in a suicide blast in Kohat. A kid is dead in Peshawar car bomb blast.
Oct 12: A suicide bomber triggers blast in a busy market in Shangla, near the Swat valley. Over 45 persons, mainly civilians, are killed.
Oct 10/11: Taliban militants storm Army HQ in Rawalpindi and take hostages. A total of 23 persons, including 11 troopers and three hostages, are killed.
Oct 9: As many as 52 civilians are killed and over 100 injured in a suicide blast in Peshawar's busy Khyber Bazaar.
Oct 5: Five UN workers are killed when a Taliban suicide bomber, in a military uniform, walks into their office in Islamabad and blows himself up.
The 'Terror Thursday', marked by audacious strikes on three heavily gaurded security facilities, left as many as 39 persons dead and scores injured in three Pakistan cities.
The terrorists began the day with a devastating suicide attack on a police station in Kohat city in NWFP, leaving 11 persons dead and 22 others injured. The high drama shifted to country's second biggest city Lahore where gunmen carried out three simultaneous assaults on the offices of security agencies within a span of 15 minutes.
As many as 27 persons, including 10 attackers, 11 police personnel and other security employees, besides civilians, were killed in the pitched battles involving the Army and the police. A car-bomb blast in a residential area, housing government officers in Peshawar, left a child dead and sevens others injured.
In Lahore, the militants, in three teams, began their operations at around 9.30 am with an assault on the Federal Investigation (FIA) headquarters in the heart of the city. The attackers exchanged heavy gunfire with the security forces as they forced their way into Manawan Police Academy, adjacent to the city. An attack was also launched at Elite Police Training Centre in Bedian in suburban Lahore.
"Our prompt response averted a major disaster in Lahore," Maj Gen Shafqat, GOC, Lahore, told reporters after a visit to the three sites. Though the government has described theattacks as desperate attempts by militants to pre-empt the impending military offensive in south Waziristan after its successful expedition in Swat/Malakand, the ferocity and frequency of fresh assaults have jolted the entire country.
'The enemy has started an all-out war,' Interior Minister Rehman Malik said in Lahore, adding: "But this will not deter us and we are determined to defeat them." Amjad Farooq Group of Punjab Taliban, which has established close links with the Tehrike Talike in Pakistan (TTP), has claimed responsibility for the attack in Lahore.
In the past 11 days, Pakistan has been rocked by at least five major deadly attacks. On Saturday (October 10), terrorist had launched a daring assault on Army's nerve centre, the General Headquarter (GHQ) in garrison town of Rawalpindi, close to the capital city of Islamabad.
The attackers killed two senior army officers, besides many soldiers and took hostage 42 persons for nearly 24 hours before the Army was able to free them.
Lahore, the centre of Pakistan's cultural life and its most liberal major city, has seen a string of deadly attacks throughout 2009. The Farooq group began as an anti-Shia sectarian outfit known as Lashkar-e-Jhangvi but has now coordinated its operations with Al-Qaida, Taliban, Jaish Mohammad and Lashkar-e-Toiba.
Pak police points fingers at India after attacks
Lahore, October 15
The Pakistani police today pointed fingers at India after three terror attacks in this eastern city, but interior minister Rehman Malik said there should not be any speculation on the issue without evidence.
Shortly after terrorists struck at the Federal Investigation Agency office and two police training centres, Lahore Commissioner Khusro Pervez blamed the Research and Analysis Wing, India's external intelligence agency, for terrorist activities across Pakistan. "The enemy has engaged us in the North West Frontier Province and other areas. There is a lot of evidence showing the involvement of a neighbouring country. They openly say they want to destabilise Pakistan," Pervez told reporters.
Pervez also alleged that India had set up training camps for terrorists in Afghanistan's Paktia region. He questioned India's reasons for setting up consulates in Afghanistan.
Hours later, Malik said government officials should not speculate about the involvement of any country in the attacks without proof.
"We cannot rule out the possible involvement of foreign forces but I do not want to name any country without evidence," he added. — PTI