M A I N N E W S
US aircraft forced to land at Mumbai
Shiv Kumar
Tribune News Service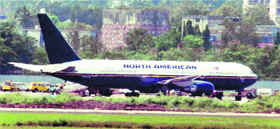 A US plane, forced to land over an airspace violation, is seen on the tarmac at the Mumbai airport on Sunday. — PTI

Mumbai, October 18
A US aircraft, with American marines among other passengers aboard, was forced by the authorities to land at Mumbai airport today for flying over Indian airspace without getting the mandatory military approval.
The Boeing 767 aircraft, with 205 passengers, including crew, aboard, belonged to Northern American airlines and had been chartered to ferry the marines attached to the US 205 Marine Unit. The air traffic control officials ordered the aircraft to land after its pilot was unable to provide the correct call sign at 7.52 this morning.
An Indian Air Force spokesman later told reporters in New Delhi that the commander of the aircraft provided air traffic control with a civilian Air Operations Routing (AOR) clearance sign when it is mandatory for aircraft carrying military personnel to obtain permission from the IAF.
Even though it was a civilian aircraft, while transporting military men and material it is classified as a military carrier, according to officials here. On landing, the aircraft was ordered removed to a remote parking bay of the Chhatrapati Shivaji International Airport. The aircraft was subsequently given permission to leave after officials of the US Embassy completed the paperwork with the Minister for External Affairs, IAF and the Director General of Civil Aviation in New Delhi.
PTI adds: But due to the pilot's Flight Duty Time Limitations (FDTL), the aircraft is not likely to take off before tomorrow. "The aircraft will take off tomorrow as the crew have crossed their flying duty hours limitation," a Mumbai International Airport Limited (MIAL) spokesperson said.
The crew and the passenger are being lodged in a five star hotel in the city, the spokesperson added.
Meanwhile, the US consulate in Mumbai said it was pleased that the issue was resolved in a speedy manner. "We are pleased that we were able to resolve this procedural matter in an expeditious fashion and appreciate the assistance and cooperation of the Indian authorities," the US consulate statement said. The crew and passengers would be staying in Mumbai due to crew rest requirement, the statement added.