PUNJAB
HARYANA
JAMMU & KASHMIR
HIMACHAL
REGIONAL BRIEFS
NATION
OPINIONS
LETTERS
BUSINESS
SPORTS
WORLD
Wednesday, October 28, 2009, Chandigarh, India
Updated at 3:00 am (IST)

RIC bats for united world against terror
Raises concern over Afghan crisis, wants nations to adhere to UN sanctions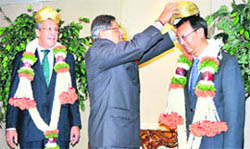 Bangalore, October 27
Coordinated action against international terrorism was mooted after a meeting of the foreign ministers of India, Russia and China here on Tuesday.
External Affairs Minister SM Krishna felicitates his Chinese counterpart Yang Jiechi before the commencement of the ninth trilateral meeting on Tuesday. Also seen in the picture is Russian foreign minister Sergei Lavrov. — PTI

Fruitful talk with China: Krishna
Bangalore, October 27
External Affairs Minister SM Krishna today said India and China would celebrate the 60th anniversary of diplomatic relations between the two countries in a befitting manner in 2010.
CAST YOUR VOTE
Should capitation fee be abolished?

Advt
EDUCATION
JOBS & CAREERS
HEALTH & FITNESS
SCIENCE & TECHNOLOGY
REAL ESTATE
SPORTS
Train hostage drama ends peacefully
Kolkata/Midnapore, October 27
Armed activists of a Maoist-backed group today stopped the Bhubaneswar-Delhi Rajdhani Express and held up the prestigious train for several hours in a hostage-type situation in a jungle area in West Midnapore district but all 1,200 passengers were safe.


Nation page: 1,000 GPS sets for CRPF combat teams
Prez given warm welcome at Windsor
The Queen of England Elizabeth II received President Pratibha Patil and her husband Devisingh Shekhawat at the Windsor Castle here today with all traditional pomp and pageantry associated with the English royalty.
NDA 60 Glorious Years
1857 The First Challenge
E - Revolution 2005:
A Two-day IT conclave
Assembly Elections - 2005
Turbans
Chandigarh is 50
125 Years of The Tribune
India: The Tasks Ahead
India at Sixty
A Tribune Supplement
EARLIER FEATURES
On Sundays
On Saturdays
Sikh pilgrims told not to visit Pak
New Delhi, October 27
The Union Home Ministry today issued an advisory to Indian citizens, particularly Sikh pilgrims slated to visit Nankana Sahib on the birth anniversary of Guru Nanak Dev on November 2, asking them not to travel to Pakistan in view of the deteriorating security condition there.


Editorial: Epicentre of terrorism
Another murder over gotra row
New Delhi, October 27
A man was killed by family members of the girl he dared to marry despite being from the same "gotra" and same village, thus defying the khap panchayat order.


Haryana Assembly
Session likely to be stormy
Chandigarh, October 27
The one-day Haryana Assembly session tomorrow, in which Chief Minister Bhupinder Singh Hooda will prove his majority, is likely to be stormy. The rejuvenated INLD led by former Chief Minister Om Prakash Chautala will be at its aggressive best. And the ruling party will be in a hurry to finish the agenda of the day as fast as possible.
TODAY'S SPECIALS
JOBS & CAREERS

HIMACHAL PLUS

J&K PLUS

JALANDHAR PLUS

AMRITSAR PLUS

HEALTH & FITNESS

Centre rap for Maoist supporters
October 27, 2009
India rejects China's objections to Dalai Lama's Arunachal visit
October 26, 2009
Manmohan, Wen stress on harmony, trust
October 25, 2009
Sonia to pick CLP leader
October 24, 2009
Cong keeps M'rashtra, sweeps Arunachal
October 23, 2009
22 die in Mathura train mishap
October 22, 2009
Fortify your defences, PM tells forces
October 21, 2009
Situation in Pakistan very serious: Antony
October 20, 2009
60 militants killed in Waziristan offensive
October 19, 2009