HK Dua nominated to Rajya Sabha
Tribune News Service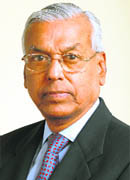 Dr AS Ganguly
New Delhi, November 18
One of the senior-most journalists of the country and Editor-in-Chief of The Tribune group of newspapers, HK Dua, has been nominated by the President to the Rajya Sabha.
HK Dua has served as editor for over 15 years in four leading national dailies. He has been the Editor of the Hindustan Times, Editor-in-Chief of The Indian Express and Editorial Advisor of The Times of India. He has served as Press Advisor to two prime ministers, and was India's Ambassador to Denmark before taking up his present assignment with The Tribune six years ago.
He was conferred Padma Bhushan by President K.R. Narayanan in 1998.
He has received the Durga Rattan award for Excellence in Journalism, the Freedom of Information Award, the GK Reddy Award and the BD Goenka Award. He has also been conferred honorary degree of D.Lit. by Kurukshetra University. Dua also served as President of the Editors' Guild of India for two terms.
Another nominee to the Rajya Sabha is Dr Ashok Sekhar Ganguly, a former chairman of Hindustan Lever Limited and a member of the Prime Minister's council on Trade and Industry. Both Mr Dua and Dr Ganguly will serve six-year terms in office.
During his journalistic career spanning over four decades Mr Dua has left his imprint on every newspaper which he edited. Under his long tenure, the Hindustan Times made great headway and acquired the standing of one of the most important, credible, objective and independent national dailies. Similarly, he has also changed the profile of The Tribune since he took over as its editor over six years ago. Under his leadership, the Tribune has evolved into a daily offering its readers a peep into the wide sweep of national and international events but without sacrificing the newspaper's dominance in the Northern states.
Dua has always placed special emphasis on credibility in news coverage which has been reflected in his own writings in various papers he has edited. Besides broad-basing the news coverage, Dua has also strengthened the editorial pages where he has not shied away taking bold but non-partisan position on major issues of national concern. He has encouraged debate on vital issues on opinion pages so that readers have access to different viewpoints.
During his journalistic career, Dua's major areas of interest have been political and international affairs. He has covered Parliament, political parties, several general elections and has been commenting on national and international affairs in his column as well as on television channels. Dua has interviewed several distinguished world leaders during his extensive travels, including Margaret Thatcher, China's Li Peng, Israel's Prime Minister Yitzhak Rabin and Iran's Rafsanjani.
Dr Ashok Ganguly is currently the Chairman of Firstsource Solutions Limited and ABP Private Limited (Ananda Bazar Patrika Group) and has been a Director on the Central Board of Reserve Bank of India, since November 2000.
Besides being a member of the Prime Minister's Council on Trade and Industry, he is a member of the Investment Commission and the India-USA CEO Council, set up by the Prime Minister of India and the President of the USA.
He is also a member of the National Knowledge Commission.
In 2008, Dr Ganguly received the Economic Times Lifetime Achievement Award and, more recently, he was the recipient of Padma Vibhushan.