PUNJAB
HARYANA
JAMMU & KASHMIR
HIMACHAL
REGIONAL BRIEFS
NATION
OPINIONS
LETTERS
BUSINESS
SPORTS
WORLD
Saturday, November 21, 2009, Chandigarh, India
Updated at 3:00 am (IST)

Cane standoff ends after govt relents
Promises amended Bill; Parliament adjourned till Monday
New Delhi, November 20
Having won a major battle against the government on the contentious sugar issue, the Opposition today happily agreed to support an amended Bill to prevent the Centre from paying Rs 14,000 crore to the sugar mill owners.
PM fears more Mumbai-like attacks
Washington, November 20
As the first anniversary of the Mumbai attack nears, Prime Minister Manmohan Singh has said he receives intelligence inputs daily suggesting that Pakistan-based terrorists are plotting more 26/11-like strikes in India. Terming as "tragic," Pakistan's use of terror as state policy, Singh said India is ready to resolve all outstanding issues with the country on the condition that it will not allow its territory to be used against its neighbour.
CAST YOUR VOTE
Is the time ripe for economic reforms in India?

Advt
EDUCATION
JOBS & CAREERS
HEALTH & FITNESS
SCIENCE & TECHNOLOGY
REAL ESTATE
SPORTS
ISI helped Omar 'hide' in Karachi
The Taliban's one-eyed leader Mullah Mohammed Omar has abandoned his border hide-out and taken refuge in the port city of Karachi, according to U.S. intelligence officials.
HK Dua takes oath as RS member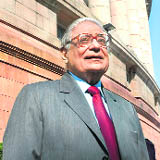 New Delhi, November 20
Editor-in-Chief of The Tribune group of newspapers HK Dua today took oath as a Member of Parliament having been nominated to the Rajya Sabha by President Pratibha Devisingh Patil.
Editor-in-Chief of The Tribune group of newspapers HK Dua comes out of Parliament after taking oath as a Rajya Sabha member on Friday. Tribune photo: Mukesh Aggarwal

NDA 60 Glorious Years
1857 The First Challenge
E - Revolution 2005:
A Two-day IT conclave
Assembly Elections - 2005
Turbans
Chandigarh is 50
125 Years of The Tribune
India: The Tasks Ahead
India at Sixty
A Tribune Supplement
EARLIER FEATURES
On Sundays
On Saturdays
Sachin scales Mount 30K

Sachin Tendulkar celebrates after scoring his ton on the last day of the first Test against Sri Lanka in Ahmedabad on Friday. He reached yet another landmark in his career when he took his tally of runs in international cricket to 30,000. The match ended in a draw.— Reuters
Snowstorm leaves 8 dead in Rohtang
Kullu, November 20
The sudden death of eight labourers, seven from Jharkand and one identified as Dharam Dut from Gohar Mandi, due to hypothermia in the snowstorm travelling at 156 km per hour in Rohtang-Rani Nala area, 52 km from Manali has exposed the callous treatment meted out to labourers working in hostile weather conditions. There is a lack of coordination between the rescue posts at Marhi (Manali) and Koksar (Lahaul).
UNICEF Report
In India, 5,000 kids die every 24 hrs
New Delhi, November 20
Twenty years after the world leaders signed the Convention of Rights of the Child, India continues to lag behind on key commitments made to its children.
China ties not at India's cost: US
November 20, 2009
No third-party role in ties with Pak: India
November 19, 2009
Obama for China-Dalai talks
November 18, 2009
On 26/11, Headley, Rana were in Pak
November 17, 2009
Rana was fixer, planner, financier
November 16, 2009
Jaipur train mishap kills 6
November 15, 2009
Headley stayed at Taj
November 14, 2009
India tightens noose on Headley
November 13, 2009
Cyclone fury hits Arabian Sea
November 12, 2009
Left, SP tamed in strongholds
November 11, 2009