M A I N N E W S
26/11: Italy arrests 2 for aiding attackers
Pak father-son duo got activated phone account that terrorists used to get in touch with handlers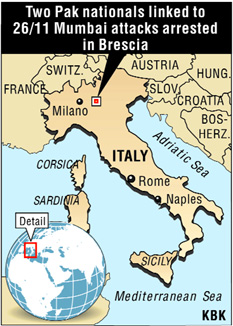 London, November 21
Tracing new links to the Mumbai carnage, a Pakistani father-son duo were today arrested from Italy for allegedly managing money transfer to finance phone communications of the attackers following leads from Indian and US investigators.
The two men, who ran a money transfer agency, were arrested in an early morning raid from the northern Italian city of Brescia, police said. The duo have been identified by the police as Mohammad Yaqub Janjua, 60, and Aamer Yaqub Janjua, 31. They have been accused of aiding and abetting international terrorism as well as illegal financial activity.
On November 25, 2008, a day before the attacks, they transferred $ 229 to activate an internet phone account that was used by the attackers and their accomplices, said Stefano Fonzi, the head of anti-terror police in Brescia.
The funds that enabled the terrorists to be in touch with their handlers in Pakistan were transferred under the identity of another Pakistani man who had never been to Italy and was not involved in the attacks, reports from Italy said.
The two managed a money transfer agency where it is reported to be a common practice to transfer funds using false identities. The Italian police arrested the two men in an early morning raid in Brescia, the police said in a statement.
Italian police started their investigation the following month after being alerted by Indian authorities and the FBI that funds had been transferred from Italy, Fonzi said.
Two others connected with the long-standing money transfer agency in Brescia were also arrested for other illegal activity, Fonzi was quoted as saying by foreign news agencies. Police are looking for a fifth man.
The order to open the account that allowed the attackers to communicate during the massacre came from two men in Pakistan, Fonzi said. He said Italian authorities had shared details of their identities to Pakistani officials.
An additional 12 people were flagged to prosecutors for possible investigation but were not arrested, Fonzi added. — PTI