KOTA
Coaching Capital

The government may be going all out to reduce stress on school students by
scrapping board exams and effecting other reforms, but coaching business is booming
in Kota. Perneet Singh on this haven of coaching institutes that sell IIT, PMT
dreams to thousands through specialised classes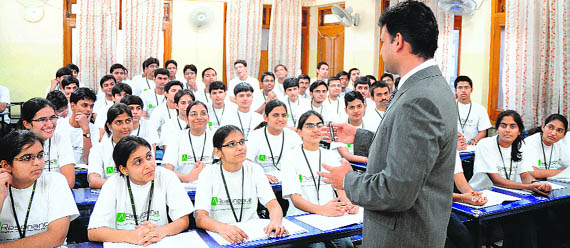 Situated on the banks of the Chambal, Kota, a dusty, non-descript town of Rajasthan, has over the years emerged as the countryís coaching-class capital where students from different states descend to crack IIT-JEE, AIEEE, PMT and other competitive exams.
Each of the top coaching institutes in Kota like Bansal Classes, Allen, Resonance and Career Point has more than 15,000 students and over 500 staff members.
The sprawling campuses, hi-tech buildings and air-conditioned classrooms of these centres can give any world-class institution a run for its money. Interestingly, that is not all. Their business is blossoming further and they are expanding campuses. For instance, Allen, one of the oldest coaching institutes in the town, has 25,000 students and the institute is finding it difficult to accommodate them in three huge buildings. The institute is now constructing another building to cope up with the ever-increasing rush of students.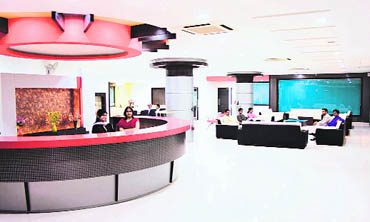 Swish interiors of different coaching institutes reflect
the booming business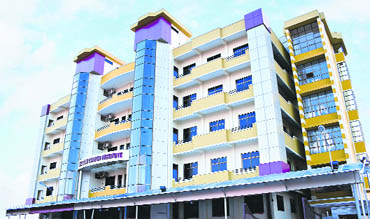 Some of the top institutes impart coaching
to as many as 15,000 students Tribune photos

So, what is the success mantra of these institutes that claim that half of those cracking IIT-JEE every year are their students?
"There is no well-defined or fixed success mantra as such. We coach our students with complete honesty and it is due to our sincere approach over the years that they are ready to pay us a hefty fee. To be precise I would say it is hard work," says Naveen Maheshwari, Director of Allen Coaching Institute.
R. K. Sharma, Senior Manager (SW & PR), Resonance, attributes the admission of a whopping 15,000 students to the institute this year for IIT-JEE to their tremendous success in the previous years. "Last year, 6,000 students from our institute appeared in IIT-JEE, and of those, 852 made it to the IIT while another 800, who opted for our distance learning programme, also succeeded in the entrance exam," he said.
Is it sheer hard work or is there also a hype surrounding coaching institutes in Kota?
We asked a few people associated with coaching business and they agreed to share a thing or two about it, pleading anonymity. According to one coaching institute official, "Over the years the institutes here have thoroughly understood the pattern of the IIT-JEE and they train their students strictly on those lines. Also a lot of grilling goes into coaching. The IIT aspirants are made to solve the papers of almost all the relevant entrance exams that take place prior to IIT-JEE. However, much depends on the talent of an IIT aspirant. We only bring about refinement in the basic talent of a student. We donít have a magic wand that can help a duffer in cracking the toughest entrance exam in the country." Also the fact that thousands of students land in Kota for IIT-JEE coaching also translates into the success of a sizable number of institutes in the city. "If an institute is coaching 15,000 students and out of those 750 make it to IIT, then the percentage of success is a mere five per cent, but 750 seems to be a big number when seen in isolation," he added.
Boost for economy
The coaching institutes in Kota may have been literally minting money, but the people here give the coaching industry full credit for infusing life in the townís economy when it needed the most. "We owe our survival to the coaching institutes. Most of them came into being in early 1990s when J. K. Synthetics, a big industrial unit that employed over 2,000 persons, had downed its shutters, rendering many jobless here," said Mahendra Jain who runs a tiffin centre at Talwandi locality.
Interestingly, Vinod Kumar Bansal, who started Bansal Classes, was also employed with J.K. Synthetics before opening his coaching institute. Being an engineering graduate, he used to teach a few students free of cost, but when the JK shut its shop he turned it into a full-time profession.
Jain is not alone as there are thousands of families that are earning their bread and butter from these coaching institutes. For instance, one will be amazed to find 10 girlsí hostels in a row opposite Allen Institute in Indra Vihar. And who all are running these hostels? No, they are no businessmen but simple housewives. "We charge Rs 7,000 per month for a single room and Rs 6,500 if your ward is willing to share it with another girl. The fee includes breakfast and meals. For an AC room it will be Rs 8,000 per month, apart from Rs 5 per unit of electricity," said the landlady of one of the hostels. She was quite candid to admit that a couple of her family members stay at the ground floor to manage the hostelís affairs. Another hostel owner has even opened a department store and an STD booth on the ground floor catering to female customers only.
Apart from these, one can see a number of "To Let Ė Only for students" boards in houses with a room or two to spare. The town is dotted with a huge number of tiffin centres and cyber cafes, which are patronised by the IIT aspirants. Even healthcare sector is cashing in on the coaching boom. A private hospital close to a renowned coaching institute is offering total health check-up package for students at Rs 1,200. The hospital also has 27 beds reserved for the patients in their teens.
The coaching industryís impact on Kotaís economy can be gauged from the fact that there are about 70,000 students enrolled at the townís coaching classes, with each paying something between Rs 25,000 and Rs 70,000 per annum depending on the course. This takes the annual turnover of the industry to the tune of hundreds of crores. The amount of business these institutes generate for the printing industry alone runs into crores, as a massive quantity of study material and publicity-related matter is printed on a regular basis. "Even the government, which talks of taming the coaching institutes, is earning revenue to the tune of crores by charging us 10.3 per cent service tax," said Maheshwari of Allen Institute.
Real estate boom
Even as the world was facing recession, the real estate prices were soaring in Kota, courtesy the blooming coaching industry. Pratap Bajaj, a property dealer, says, "The areas around the top coaching institutes had no impact of recession. The rates of residential plots have gone up in areas like Indra Vihar, Mahaveer Nagar, and Vigyan Nagar from Rs 1,200 per sq feet to Rs 3,000 per sq feet in the last couple of years. The rates have also shot up sharply in Rajiv Nagar from Rs 1,800 per sq feet to Rs 5,500 per sq feet. Similarly, the rate of commercial land right around these institutes is Rs 10,000-Rs 12,000 per sq feet." He said the real estate scenario in other parts of the town is gloomy, as the prices have dropped by 25 per cent during recession.
Lucrative profession
Owning a coaching institute or being a faculty member is a lucrative proposition that can cause heartburn even among the bureaucrats or those working for multi-national companies. R.K. Verma, an IITian himself, came to Kota for IAS coaching, but developed a liking for the coaching profession. In 2001, he founded Resonance Coaching Institute, which today boasts of 15,000 students. Another example of how lucrative this profession has become over the years is the case of a chemistry teacher at Resonance who had quit the Civil Services to take up the job.
"We initially pay Rs 3 lakh per annum to our faculty during the training period, while our minimum package ranges from Rs 8 lakh to Rs 10 lakh. It can even go up to Rs 50 lakh per annum," says Maheshwari of Allen. He admitted having paid Rs 60 lakh to one of his faculty members. "The package for the faculty varies from person to person. Though I donít have the authority to comment on the package being offered by our institute, what I can tell you is that the top coaching institutes in Kota are offering Rs 3 to 8 lakh per month to their faculty members," said Ankesh Jain, Regional Manager, Career Point. Though the coaching institutes maintain a veil of secrecy over the actual package being offered to their faculty members, those in the local media say some founder members or senior faculty members of the top coaching institutes are paid as high as Rs 1.5 crore per annum.
CEO and MD of Career Point, Pramod Maheshwari, said, "On an average, a faculty member with an experience of two to three years draws a salary of Rs 20-30 lakh per annum in our institute. The maximum package offered by us is Rs 50 lakh per annum, which we have given to two of our most senior faculty members. Iím going to increase their package to Rs 80 lakh soon. We, at Career Point, donít call it salary but see it as a loyalty premium, as they have been with us for long. They not only teach our students but also play an active role in managing academic delivery."
Schools of profit
Another interesting aspect of the IIT aspirants joining coaching classes in Kota is that a majority of them prefer to get enrolled in the local schools, as it saves them the hassle to return to their native place to appear in Plus II exams. Surprisingly, none of them appear in these exams as a private candidate. Then how do they fulfill attendance criterion of the schools amid immense pressure of IIT-JEE coaching? "There are schools which give some relaxation in attendance to these students," says Sharma from Resonance. Though he ruled out any nexus between coaching classes and schools, he said some schools, which donít have adequate infrastructure and fail to meet the parametres set by the CBSE or the state education board, are happy to get more students even if they are not attending the school. However, a student of Resonance told on the condition of anonymity that almost all the coaching classes have a tie-up with some private schools and they persuade the parents to admit their wards to these schools in lieu of which they get commission from the schools. These schools, he said, are affiliated to either the CBSE or the Rajasthan Board of Secondary Education (RBSE). About attendance, he said though these schools tell such students to attend classes thrice in a week, but the latter do the same in a month. "All the students who get relaxation in attendance pay more to the schools while those who donít want to attend school at all have to shell out more money," he added. According to him, the coaching classes also get a cut from hostels and other such facilities. In view of such activities, the CBSE has tightened the noose around its affiliated schools in Kota and has asked them to admit students in Class X and XII only if one has a "strong reason"for seeking admission in the town.
The stress factor
It goes without saying that while one is preparing for the toughest entrance examination in the country whose cut-off percentage was as low as 37 per cent last year, the students would be under tremendous stress. Though institutes like Resonance and Career Point have "student welfare cell" where they have a panel of doctors, including psychologists, to address these concerns, there have been cases where the students have slipped into depression. "In such case you cannot point out a single reason. There may be various factors playing at one time like extreme competition and home sickness," said Jain from Career Point. "My nephew had scored 90 per cent in Plus II, but when he took admission in one of the coaching institutes in Kota he simply failed to cope with the burden of studies and immense pressure. My brother had to ultimately bring him back to Jaipur," said Shraddha Pandey, a Jaipur resident. According to Jasveen Saluja, a psychologist, some students fail to come to terms with the sudden exposure to the highly competitive atmosphere in these institutes. "Joining a coaching institute in Kota is any studentís first brush with a competitive environment where one has to compete not in a class of 60 students but with lakhs of students across the country to make it to the prestigious IITs. On top of it, the institutes assess a studentís performance on a day-to-day basis, which adds to the pressure. While some students take to it as fish to water, others start reeling under stress, which ultimately leads to depression," she added.