COLUMNS

THIS ABOVE ALL
TELEPROMPT
GOOD MOTORING
AUDIO SCAN
LIFE'S LESSONS
WEBSIDE HUMOUR

FOR CHILDREN

CROSSWORD
ROOTS
RHYME TIME

Earlier Feature
TELEVISTA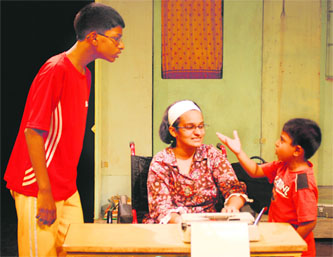 Showcasing talent of kids from across the country, the National School of Drama recently hosted a two-week children's theatre festival Jashn-e-bachpan in New Delhi. Humra Quraishi takes a look
This Chinese proverb transports me back in time when I and my sisters would sneak towards the pandals where Ramlila would be enacted in full swing, where those mythological legends held sway, leaving an impact on the psyche in that subdued way.
A scene from "Barsoraam Dhadaake Se". This year, the festival received 108 entries from 23 states

Twitter tadka
With social networking sites becoming quite popular, Paul Singh undertakes a hypothetical trip down the e-street
For a while, mobiles were a rage, and then came the broadband boon with the likes of Orkut, MySpace, Linkedin and Facebook. Today, however, the trend on the e-street is all about Twitter. A website using almost a global chatting platform to help people connect to others they would not have known otherwise. Companies' market jobs, teens talk about their days, and others just ramble.
Lexicon
Language skills
Deepti
Play a while
A man called Ammon Shea spent a whole year reading the Oxford English Dictionary and wrote an account of his 'tireless, word-obsessed and more than slightly masochistic journey' (the book blurb) titled reading the OED: One Man, One Year, 21,730 Pages. In his introduction or Exordium, as he prefers to call it, Shea writes, 'enjoy the efforts of a man who is in love with words. I have read the OED so that you don't have to'. In the book, he draws the readers' attention towards words that are 'both spectacularly useful and beautifully useless': words like 'obdormition' or 'the falling asleep of a limb'.