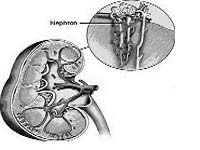 Complications of diabetes in kidneys, called diabetic nephropathy, occur in 20-40 per cent of patients with long-standing diabetes. Diabetic nephropathy is the leading cause of chronic kidney failure and dialysis dependence. This is characterised by persistent albuminuria (protein in urine) and is usually associated with elevated blood pressure.
Symptoms
Albumin (protein) in the urine.
High blood pressure.
Ankle and leg swelling.
Decreased urination.
High levels of blood urea and creatinine.
Less need for insulin or antidiabetic medications.
Reduced appetite, nausea and vomiting.
Weakness and anaemia.
Itching.
Complications
Severe hypertension.
High level of serum potassium.
Anaemia.
Hypoglycemia (low blood sugar).
Infections.
Chronic kidney failure (rarely rapidly gets worse).
Dietary advice for patients
It is important to maintain a low-sodium diet in diabetic nephropathy. Many diabetics are salt-sensitive, and minimising salt intake can help in reaching blood pressure goals, with secondary benefits of decreased stroke risk, regression of left ventricular hypertrophy, and reduction in proteinuria.
Lifestyle modification
By modification of lifestyle, the following changes can be made:
Weight loss.
Reduction in salt intake.
Avoidance of alcohol and tobacco.
Regular exercise.
Avoidance of kidney toxins and drugs
It is important to avoid pain-killers in patients with diabetic nephropathy. Daily low-dosage aspirin is safe in diabetics. However, aspirin in higher dosages should be avoided. Apart from this, frequent CT scans and angiography using contrast in the presence of raised creatinine should also be avoided. Metaformin, the most commonly used anti-diabetic drug, should not be used in the presence of deranged kidney functions.
Prevention
Annual check-up of urine protein.
Consult medical professionals before using any drug.
Control of high blood sugar and elevated blood pressure, including regular use of ACE inhibitors.
Treatment
The main goal of treatment is to prevent complications and the worsening of kidney diseases.
Tight blood pressure control is the most effective way of slowing kidney damage from diabetic nephropathy.
Regular prescription of ACE (angiotensin-converting enzyme) inhibitors like Ramipril or Enalapril and ARB (angiotensin receptor blockers) such as Losartan or Telmisartan.
Control of lipid levels.
Dietary changes and medication to control blood sugar levels.
Use of antibiotics to treat infections.
Avoidance of smoking.
Dialysis and kidney transplant in advanced kidney failure cases.
Challenges in blood pressure control, hyperkalemia or the rising creatinine level on angiotensin blockade prompt a referral to specialist.
Is diabetic nephropathy curable?
There is need for intensive use of ACE inhibitors or ARB with tight control of blood pressure and blood sugar. With this type of treatment, long-term research has shown that diabetic nephropathy can be cured in early stages.
Pregnancy and diabetic nephropathy
ACE inhibitors during pregnancy with diabetic nephropathy should be avoided as they cause congenital malformations and other birth defects.
The key lies in the strict control of blood glucose (HbA1C<7.0%) and blood pressure (BP<130/80) including regular use of ACE inhibitors and/ ARB like Ramipril/ Telmisartan.
The writer is Senior Consultant (Endocrinology), Fortis Hospital, Mohali. E-mail: (k.singh@fortishealthcare.com)