Tell-all genre
Autobiographies are perennial bestsellers. What makes them fly off the shelves, Lifestyle finds out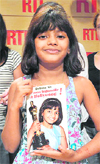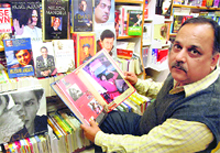 Rubina Ali, child actor of the Oscar-winning flick Slumdog Millionaire, recently became the youngest person to have her autobiography published at the age of nine. Once the prerogative of the elite or the realm of celebrities, the autobiographical impulse, or the urge to tell one's story, seems to have proliferated, as has the urge to read other people's stories. — Photo by Vinay Malik

On cover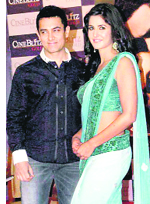 Aamir Khan and Katrina Kaif during the launch of Cine Blitz magazine's book Love and Longing in Hindi Cinema, in Mumbai.
PTI photo

Author of Finding Violet Park Jenny Valentine talks about her fascination for mystery
Jenny Valentine, this British novelist, has a fascination for strangers. Strangers moving up and down the escalator in a busy mall, the ones hanging around some old London Railway terminal, some sitting ideal in a park or whiling away time at a grocery shop. These are the strangers, who pass Jenny's mysterious thread, with which she weaves her story, tying knots, zigzagging through, giving a final shape to it. And, these are the strangers that get her to write. "Strangers carry a story with them that fascinates me," smiles Jenny, who loves the sweet taste of tea served piping hot at the British Library. "I love it in India. My friends said I would either love or hate India. I didn't want to hate it. I am glad that I am loving every bit of it." Just the way she enjoys writing, moving along with the plot, capturing insights of young minds trying to deal with situations.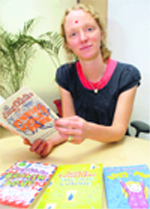 Chain reaction
The 75th anniversary of the British Council revolves around books. Provides Bipin Kumar, manager, British Library, "We have chosen 75 of the best contemporary books selected by experts of the British Council in the UK and India with a British connection, which we will be setting out on a journey around the city, country and even the world. In this process, we will create book chains linking people together as books are passed on from one person to the other. "Books Gone Wild are open for all, starting first with the members, who will eventually pass it on to friends, family or even strangers. "Anyone can be a part of this activity by rating, commenting and tracking these books on line as well," he adds.
— Photo by Vinay Malik
Role reversal
Bollywood overshadowed Marathi cinema, says Amol Palekar
Actor-director Amol Palekar says he is happy with the fact that Marathi cinema is back in the reckoning after being overshadowed by Bollywood movies for years. "Marathi cinema has been in conflict and had to bear the direct brunt of Bollywood and masala films. Marathi films really had to struggle," Palekar said at a press conference.

Maan ka radio…
Radio—a Himesh Reshammiya act all the way
Bollywood Composer-singer-actor Himesh Reshammiya, whose last two films bombed at the box office, has done away with his trademark cap, got rid of his nasal twang and is back to prove his acting prowess with a new look in Radio that releases this week. Produced by Ravi Agrawal, the movie has been directed by Isshaan Trivedi.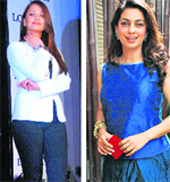 Brand bargain
Bollywood's married actors are in demand for ads
Bollywood may not be kind to married actresses, but they sure have a special place in the ad world. Their marital status helps these heroines sell a host of goods, especially household products like soaps, biscuits and washing machines. While Kajol is the brand ambassador of products like Knorr Soups, Olay cream, Alpenliebe candy and Whirlpool appliances, Juhi Chawla has Kurkure snacks, Ashoka pickles and soft drink Rooh Afza in her kitty.
Aishwarya Rai Bachchan, Juhi Chawla
Holy matrimony
I always wanted to get married in a temple, says Eesha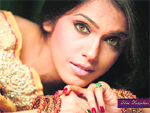 Bollywood actor Eesha Koppikhar, who tied the knot with restaurateur Timmy Narang at a temple, says that she always wanted to get married in a temple. "Temple is something really pure, it's really nice to get married in a temple. I always wanted to get married in a temple," Eesha told reporters at her reception. Unlike other stars' marriage, Timmy and Eesha kept the ceremony simple and low profile.
Wrap up!
With winter winds setting in, we do a quick style check and get for you the latest in the market
The prime time of layering has arrived. Trendy and chic fashion is hard, especially in the season of chill when one has to go under the wraps all that more. But one winter trend where you can rarely go wrong is coats.


Brown woolen overcoat with fur Esprit @ Rs 6990/Brown light weight trench coat Lerros @ Rs 4999/Tommy Hilfiger red long coat in soft leather finishStylecheck @ 4999/Hooded, tweed, check black and white coat Nautica @ Rs 8995/Yellow winter jacket Nautica @ 7995/Tweed check coat in green and blackMadame @ 3595.
— Photo by
Parvesh Chauhan

Key to success
In conversation, Dr Kiran Bedi says education and health should be the primary concerns of a nation
Dr Kiran Bedi is not just a name- it's a phenomenon. She has not only served the country as the India 's first and highest ranking (retired in 2007) woman officer but as an ardent social worker as well. Having joined the Indian Police Service in 1972, her experience and expertise include more than 35 years of tough, innovative and welfare policing. — Photo by
Rajesh Sachar
On a musical note
Four boys debut with the launch of Punjabi music album Mitran Da Mood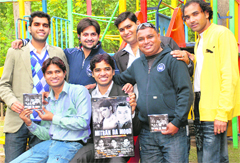 Mitran Da Mood, a new Punjabi album, produced by Mumbai-based music company Virsa records, featuring five singers was launched at the Chandigarh Press Club-27. Botlaan Sharaab Diyan Akha Teriyan fame Meet Malkit has sung the title song Mitra Da Mood, while four local boys have debuted with this album. These are Inder Gill, Charanjeet Channa, Dalbeer and Amit Kumar. City-based tabla player Ranbir Kumar debuts as a music director with this album. With six different compositions the album has two sad songs, one romantic number, two bhangra numbers and one song with a social message.

While aspiring actors and directors are making a beeline for Mumbai, here is this group of former students who are bringing a slice of Bollywood to the city
For anybody who wants to become somebody in the glamour industry of the country, struggle is a must on your resume. And, in search of that 'struggle', Mumbai is the first and the last destination for aspiring, talented lot. But then, not everybody walks down the same lane. — Photo by Pradeep Tiwari


| | |
| --- | --- |
| Gaurav Sharma with friends | The set of West is West at Jayanti Majri |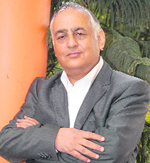 The Guru
N.K. Tewari, an educator shares his view on education then and now
It's all right to have an aim but it is more important to know what you want to be rather than what to do in life'. This pierce of advice comes from N.K Tewari, an educator, who is currently associated with the NIIT School Learning Programme, Delhi and also as director of the Scindia School Development Project, Gwalior.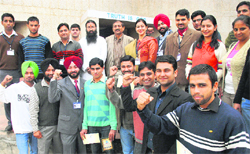 For a change
The youth can make a difference to society if they work towards it. One such initiative, taken by Kanwardeep Singh, founder member of a NGO, Youth Power Igniting Hopes, requests the youth to raise their voice against child labour and exploitation. At a seminar orgainsed by the NGO in collaboration with the Department of Gandhian Studies, various guest speakers discussed about the problem of child labour, and what the youth can do to curb it. — Photo by Pradeep Tiwari
Party hard, learn harder
Brush up your general knowledge before you head for a party
The next time you head out for a party do remember to brush up your general knowledge, for sounding smart is just as important as looking smart on the cocktail-party circuit, according to a new Canadian survey. The Harris/Decima survey, which polled 1,013, on behalf of MSN.ca has revealed that 79 per cent of Canadians admit they judge people they first meet based on how smart they are.
Single-sex schools are bad?
You might have thought that boys brought up in a single-sex environment would find relationships with girls difficult to handle. It shows that boys taught in singlesex schools are more likely to be divorced or separated from their partner than those who attended a mixed school by their early 40s.


Sallu in shaddi

5
5
n
6
6
Bollywood actor Salman Khan at the wedding ceremony of Rajasthan Tourism Minister Beena Kak's son in Jaipur.
PTI photo