Numero Uno
Wear your status on your car number plate with a fancy number
Shifu Aggarwal, a PU student puts the key in the ignition, turns it, hears the engine rev up. He then inhales a his pride and ego takes up the shape of black-highlighted digits- CH 03J 0097. Thisdeep puff of pride, swallows it with bits and pieces of ego swirling in his stomach already.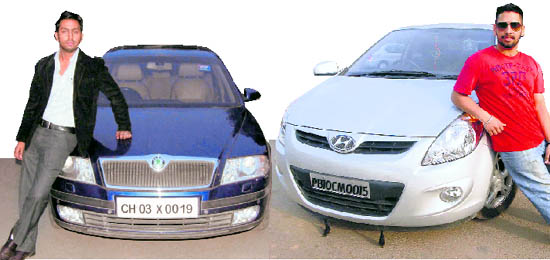 Pankaj Gupta (Right) Balkaram Singh
Art-i-fact
When absurdity gets a meaning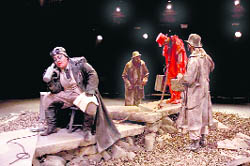 Theatre must tell a story. Indeed, what is theatre sans drama, a plot—a structured start and finish? So, what does one make of Theatre of Absurd that is plot-less, conflict-less and is either without logic or subverts logic. The dictionary meaning of it is: a form of drama that emphasises the absurdity of human existence by employing disjointed, repetitious and meaningless dialogue, purposeless and confusing situations, and plots that lack realistic or logical development.

A scene from Waiting for Godot
Absurd truth
Theatre treat
A week-long theatre festival begins on December 7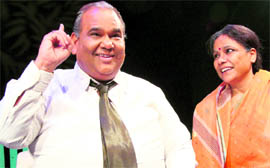 After the oldest theatre ensemble "Abhinet" the Theatre for Theatre (TFT) has not only emerged as the leading theatre group in performance but is also leading in the proliferation of theatrical arts in the tricity. Credited with many firsts like staging of the play Court Martial 370 times, they are now organising a weeklong TFT winter national festival for five days. Established in 1999 with the initiation of founder director Sudesh Sharma the group had elite city actors like Parvesh Sethi, KK Doda (a retired judge), G.S Dardi, Ravinder Happy and others.

Festive time
Emotional anchor
With reality show Emotional Atyachar and film Tere Mere Sapne, Angad Singh Bedi ventures full time into acting
From anchoring to acting to playing cricket and hosting cookery show, Angad Singh Bedi has done it all. Getting into acting, he first tried his hand at modelling and then made his debut in Kaya Taran, a television adaptation of a Malayalam short story by N. S. Madhavan, When Big Tree Falls, The Earth Is Bound To Shake. Now, all set to anchor the show Emotional Atyachaar, that would see the fidelity inspector aka Angad give you a chance to check out whether he or she is really into you, he says, "Acting has always been a passion for me and this show is one of the first big shows that I would be hosting."


Maan of the moment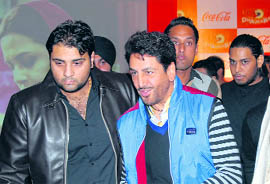 Punjabi singer Gurdas Maan at Hotel Mountview for the Coca Cola event, Meet Gurdas Maan, where he presented gifts and greeted lucky winners chosen during the quiz contest. Tribune photo
Get, set, go
Third-year students of PEC have designed a formula-racing car
Students of PEC University of Technology (formerly Punjab Engineering College (Deemed University) launched their FSAE car. A formula racing car, the name of the team who created this wonder is PEC FSAE Team. Consisting of 12 students (Apoorav Mahajan, Arjun Wadwalkar, Arnab Chanda, Digvijay Singh, Gagandeep Singh Batia, Kapileshwar Singh, Mukul Aggarwal, Navdeep, Rajat Bhardwaj, Vaibhav Nangia, Vidur Gupta and Angad Singh the team leader), from third year, ten studnets are from mechanical engineering department and two from electronics department.
Koffee break
Character call
Vidya Balan made her debut with Parineeta (2005) for which she got Filmfare Best Female Debut Award. After her different avtaars in Eklavya, Lage Raho Munnabhai, Guru, Salaam-e-Ishq, Heyy Bebyy, Bhool Bhulaiya and Aziz Mirza's Kismat Konnection, she is ready to hit the big screen with an extremely emotional story of a couple who has a child suffering from progeria, Paa this Friday.
Side Lanes
Attaboy girls!
It was a great party. The boss invited the office crowd to his home for a Diwali bash. The wife, a short, dowdy woman and the perfect homemaker, cooked a lavish meal. Her guests relished the food. The men and women were smart, intelligent and articulate. An assistant manager was particularly petite and well turned out in a simple but well cut grey suit enhanced by a pink, ruffled blouse.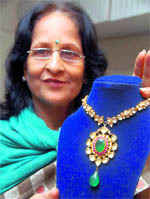 Creative line
Creations 2010 brings to you an alternative to sky-high gold prices. Designer jewellery collection in silver, plated in 22k gold, it liberally uses amethysts, peridots, golden topaz, turquoise, pearls and kundan. "Our jewellery is not only affordable but also value for money as we provide lifelong maintenance," says Nirmal Maheshchand, who is into jewellery business for last 20 years. "Last year I launched my own line along with my daughter Radhika and the response is better than expected for there is not much of overhead costs in my jewellery," she says. The collection has chandelier earrings, bold pendants, cocktail rings, pajebs and bridal accessories.