Ma belle
Ballerina Ellen Davis and belly dancer Sajeeva Hurtado use dance for self-transformation
Neha Walia
The thing about meditation, finding inner peace, falling in love with oneself etc etc is that the idea is as abstract as the application. Call it therapeutic, spiritual awakening or plain exercise to keep healthy, introduction to your own self seems like the most difficult job in the world for those who aren't familiar with the art. So, here are two facilitators, if that's a more appropriate term to use, who came to the city to teach an entertaining way of self-transformation. That, and everything along like self-love, bridging the gap within and learning two completely different dance forms, belly dancing and ballet, but with the same motive.
Healing touch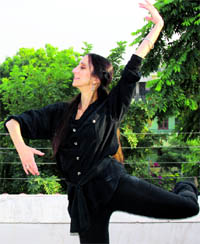 A doctor who dances like an Egyptian and heals like the Chinese. Sajeeva Hurtado, the two-time world belly dancing champion, will teach the city an altogether different aspect of belly dancing. "Belly dancing is all about connecting with yourself, the joy of dancing and not the technique,' she says. The Columbian dancer who fell for dancing when she was five and has been performing and teaching belly dancing for ten years now, believes in movement therapy, "Dance is an excellent way to help one experience and express their emotions. The process of movement therapy is often helpful in resolving inner conflicts. Belly dance offers us much more than fun, physical exercise and fantasy," she clears on that.
Mixing the traditional style with other forms like Belly tango and flamingo, she is a healer too with her expertise in dance therapies. "I work with Chinese therapies of five elements of nature. I create dance for every organ of the body and motion of melodies. In belly dancing, arms are like roots of hearts and that's what you need." She has previously taken workshops at Osho Ashram in Pune and discovered the concept in Indian context. "Dance has a root in India. Indians, unlike Europeans dance from heart and not mind," says the dancer who will take workshops in Delhi, Bhopal and then will head to Europe. "And I lost 20 kgs through belly dancing." Sensual, mystical and healthy, who cares about having two left feet?
Pointe work
Ellen Davis has a completely different target group but the objective resonates with that of Sajeeva. A ballet dancer for past 50 years, associated with Stuttgart Ballet Company and a student at the School of American Ballet, New York, is here to teach students of Pause, an after-school learning space for children in Manimajra.
Her experience as a ballet teacher for past 31 years, she enjoys her calling, "Dance is like a prayer, a vehicle to facilitate awareness in the deepest possible way," she says. For her, dance is a way of balancing inner and outer self and attaining harmony of mind, body and spirit. And, the aspiration towards perfection doesn't come with the right technique but self-belief. "There is a dancer in everyone. The most rewarding experiences come to me not by teaching the talented but the ones who thought they were uncoordinated," she says.
Her first experience in India was 12 years back, when she visited Aurobindo ashram in, Puducherry. Teaching the kids pre-ballet or creative movements, she has a yogic approach to her dance. "It's not traditional asanas or ballet postures. Ballet is competition or fear motivated but here, the it's loving and accepting," she says. And, here's another catch, weight loss. "Enthusiasm is important, self acceptance follows and then the baggage drops once you know who you are. Don't call it weight loss," Ellen emphasises.
FACT FILE: Sajeeva will conduct five-day workshop in belly dancing and Columbian salsa at Ozone fitness n spa-9 from December 7-11 and Varun dance studio-6, panchkula from December 12-16 December. Ellen davis will conduct 15-day workshop at Pause, Manimajra starting mid-December.