Socio logic
If sociology is your favourite and chosen subject, then a wide spectrum of career options is open for you, writes Usha Albuquerque
There are many students who study sociology in school or college, often by default, and then wonder what they can do after that. Sociology is a fascinating subject that covers the study of human behavior and our relationship with others within an organizational or social structure and community.
Career Hotline
Pervin Malhotra


The writer is a noted career expert and director, Career Guidance India (CARING). Please send in your queries with your full name, complete address and academic qualifications to: The Editor, Jobs and Careers, The Tribune, Sector 29, Chandigarh-160030, or at careers @tribunemail.com
Careercature
Sandeep Joshi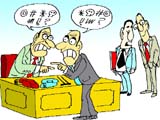 It's the same old problem — global warming.
l Cosmic connection
l Surge ahead with Urdu
l Enter the 'hospitable' terrain
l Right time for MBA
Course chat
New programme for aspiring teachers


Aspiring teachers in India can now take an advantage of a new programme and earn a master's in education as well as their teaching certification on Westminster Campus, thanks to a new McDaniel Global College partnership. The partnership, with Mar Athanasios College for Advanced Studies in Kerala, will bring people who already have degrees in Math or the Sciences, and an interest in teaching, to McDaniel for "an accelerated and intensive" one-year version of its graduate education programme, said Henry Reiff, dean of graduate and professional studies.
food for thought
The right track
Meticulous planning at every step goes a long way in realising your career aspirations, writes R.C. Sharma
In today's competitive and uncertain job market, after qualification and work experience, it's a candidate's achievements that make him/her stand apart in the crowd.
Lame excuse
The next time you arrive late for work, don't start giving excuses to your boss, for a new study has found that employers don't believe excuses for not being in on time.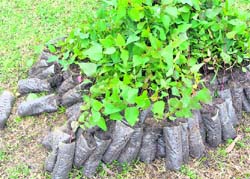 The green touch
With almost 60,000 persons being paid for looking after 12 million plants, the rural jobs scheme gets a unique makeover in Bihar
Here's one place where the rural jobs scheme is scripting a green success story. Around 60,000 persons in Bihar's Tirhut division are busy looking after 12 million plants and are being paid for it.
Hourly employees happier
People paid by the hour tend to be happier than their salaried counterparts, says a new study. "Much of our day-to-day lives are subject to various organisational practices of payment that can prime different ways of thinking, such as the monetary value of one's time," write study authors Sanford E. DeVoe and Jeffrey Pffer of the University of Toronto and Stanford.

Happiness @ work
Gems of ancient wisdom
Intelligent action
Many times, most of us, like Arjuna at Kurukshetra, are confused about what to do. Go for intelligent action. Krishna explains, "Even the educated get confused while differentiating between action and inaction. Only the one, who sees inaction in action, and action in inaction, is truly intelligent (Gita 4.16-4.18)."