M A I N N E W S
'Came to Mumbai to work in films'
Shiv Kumar & Agencies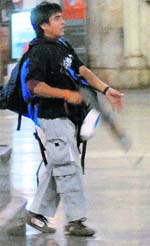 A file photograph of Mohammed Ajmal Kasab
Mumbai, December 18
Mohammed Ajmal Amir alias Kasab - the lone terrorist caught alive after last year's Mumbai terror attacks - today made a complete retraction of the confession of his participation in the carnage. All smiles and showing no signs of nervousness, Kasab told the court that he was not a terrorist and had come to Mumbai to act in films.
Adding a touch of drama, he claimed terror suspect and Pakistan-American David Coleman Headley had met him in the company of FBI officials. Kasab said that he had confessed under duress. "I totally deny the confession made before the magistrate. I was beaten up by the police and was interrogated by foreigners and one of them was Headley," he told special judge ML Tahilyani.
Lawyer Ejaz Naqvi, defending another accused Sabhaudin Ahmed, said Kasab had named Headley and that it should be recorded. Headley was arrested by FBI in October on terror charges and is believed to have played a role in aiding the Mumbai attacks. In the wake of Kasab's statement, Naqvi filed an application before the court, urging that Headley be summoned and interrogated for his role in the case.
Insisting that he had never seen an AK-47 assault rifle in his life, Kasab - clad in a stark white kurta and pyjama - said that while the attacks were taking place, he was in police custody. "I was roaming around in Juhu with my friends after watching a movie on the night of November 25 when the police arrested me," Kasab said.
With one hand on his waist and the other on the stand, Kasab was seen smiling and smirking after answering every question put forth by judge Tahilyani. He said the police forced him to take the place of a slain terrorist and denied he was photographed with an assault rifle. "I did not go around CST shooting people." Kasab was caught on camera wearing cargo pants with an automatic rifle slung across his shoulders and killing commuters at CST.
Kasab also denied that he was with Abu Ismail during the attack at VT Station. He rejected the evidence of a witness, Bharat Tamore, that he was seen with 10 terrorists at Badhwar Park when they got down from a dinghy there.
Several questions were put to Kasab based on evidences. Asked about the dinghy, Kasab said he saw it for the first time in court. The case of the prosecution is that the terrorists had reached Mumbai via the dingy.
Kasab said that on November 27 he was produced before a magistrate who then took him into custody. "I have not given any confession before the magistrate and have been implicated," he said.
To a question that witness Natwarlal, father of an 11-year-old girl who was injured in the attack, had seen him and another terrorist at CST, Kasab replied that he was not present there. "Maybe Natwarlal had said that there was firing on people but I was not there - I don't know," Kasab said. To another question that Natwarlal had recognised him in court, Kasab said that anybody could recognise him "by having seen my photograph in newspapers."
Kasab claimed he had come to India to Delhi 20 days before the Mumbai attacks by the Samjhauta Express and then travelled to Mumbai. A clean-shaven Kasab entered the court at 1130 hours and was made to stand in the witness box for the first time, as against the usual practice of making him sit in the dock. The court perused Kasab's medical report and the judge noted that he did not have any mental illness.
When asked his age, Kasab said he was about 20. The judge noted that Kasab was not a juvenile when the crime was committed.
Later, public prosecutor Ujjwal Nikam asserted that Kasab's retraction would have no consequence on the case, which rests on the evidence of 110 witnesses. "We have produced in the court photographs, CCTV footages and eyewitness accounts to prove that he (Kasab) had participated in the terror attack. I knew he is a dramatic actor... but it is difficult for him to escape from the clutches of law." — PTI