Soaring City
Prices of real estate in Chandigarh have soared over the past year bringing it in the league of major metros, writes Pradeep Sharma


At a time when the world is yet to come to terms with recession and meltdown, which had hit the real estate sector hard, realty seems to be on a roll in Le Corbusier's architectural wonder leaving several real estate pundits foxed. A square yard of residential land in Chandigarh's not-so upmarket Sector 32 is worth Rs 1.06 lakh, bringing the city in the league of metropolitan cities.
Jaipur
Not in pink of green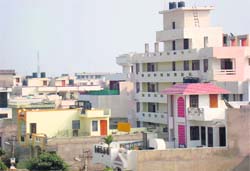 Burgeoning population and subsequent surge in construction activity in the Pink City has not only thrown its modest infrastructure out of gear, but has also taken a toll on its green cover. To cater to the rising demand of dwelling units, the land mafia has grabbed fertile land, besides depriving the residents of green belts and play areas.


Jaipur is fast turning into a concrete jungle, leaving no space for green belt and play areas
Commercial crash
The auction of property in Chandigarh presents a study in contrast. While the prices of residential property hit the roof, the auction of the commercial property evoked poor response, so much so that average price per square yard came down substantially to Rs 2.74 lakh from Rs 3.18 lakh in the last auction held on October 23, 2008.
Blend of tradition and modernity
An emblematic blend of traditional Kashmiri architecture with modern technological support has come up in the form of a unique shopping plaza of metro standards with an outstanding look and distinctive ambience in the heart of Srinagar. "Sangarmaal City Centre", being constructed by the Srinagar Development Authority (SDA) at the cost of Rs 16.50 crore, has its first phase completed, while seven more blocks would be constructed in the next three phases. The first phase comprising two buildings, Module A and Craft Bazaar with a beautifully designed landscaping has many things to offer, as it has been designed and developed with the idea of "Shopping-in-Leisure." n Tata Group plans 'Vivanta' in Srinagar
| | |
| --- | --- |
| The Sangarmaal City Centre | Promises to provide a unique shopping experience to the residents of Srinagar |
GREEN HOUSE
The perfect HEDGE
There are a few subjects in horticulture that need a rethink and choosing the right hedge for lawn is one of them. But this subject is not new. Many plants have been tried as hedges. But the key point here is that whether one should use a particular plant as hedge because one has heard about it or there is some logic behind using it? Can a hedge be a problem for your garden?
| | |
| --- | --- |
| | |

TAX TIPS
Tax on compensation amount
Q. My agricultural land situated within 8 km of the local limits of M.C was compulsory acquired by the government in 2003 at a paltry sum of Rs 8 lakh per acre. I filed an appeal for increasing the compensation amount. The compensation amount was enhanced by the District Court in 2006 from Rs 8 lakh to Rs 17 lakh per acre. I filed another appeal in the High Court for increasing the compensation amount further. The High Court has also enhanced the compensation in 2009 from Rs 17 lakh to Rs 20 lakh per acre. Now the state government has filed an appeal in the Supreme Court seeking reduction of the compensation amount from Rs 20 lakh to Rs 8 lakh per acre. The appeal is pending in the Supreme Court.
n Entitled to exemption
n What is capital asset?