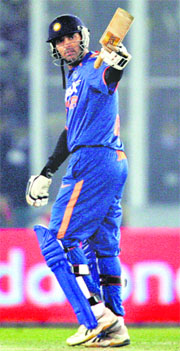 Improve the bowling
There are certain bowling deficiencies that need to be overcome if India are to become a top-notch T20 outfit, writes Gopal Sharma
Yes, it was a truly historic win by India at Mohali, where Yuvraj was simply stunning and Virender Sehwag was as merciless as he is when he is middling the ball well. The fans went berserk when India scored 211 for 4, levelling the two-match T20 series. This is the best successful chase in T20 internationals, surpassing 208 for 2 by South Africa against West Indies (205/6) at Johannesburg on September 11, 2007. All the euphoria notwithstanding, there are certain inconsistencies in the team which should not be glossed over if the 2007 T20 World Cup champions are to become a really a top-notch T20 outfit. Skipper Mohinder Singh Dhoni was far from pleased after the win.
MATCH UP: The Mohali match was high on batting, but it exposed the inadequacies in the Indian team's bowling. Photo: Reuters

Fit Zone
Winter warmers
Bharat Thakur


We can well learn from nature how to embrace every season for its unique beauty, but it's most normal for most of us to have a resistance towards the last season of the year. The days grow shorter and the nights longer, and when morning comes, you don't want to leave the comfort of the warm blanket, while fellow earth dwellers understand that it is a time to conserve energy and go into hibernatation.
Taking a young team to the SAFF tournament gave India a cutting edge
in Dhaka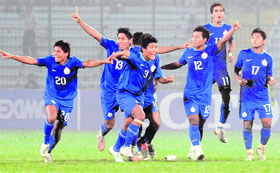 Catch 'em young
K. DATTA
It was with an eye on the future that the All-India Football Federation chose to send its under-23 team to the Bangabandhu SAFF tournament at Dhaka, and it turned out to be the right decision. By lifting the Bangabandhu Cup, the young team, which was coached by the experienced Sukhvinder Singh, 60, has justified the faith reposed in it.