An artist's story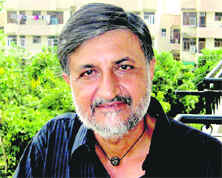 Every life has a story and when it comes to the pictorial depiction of a story, Viren Tanwar happens to be one of the bests we have. This is what we saw in his latest series by the name Every Life Has a Story, which is now doing Chandigarh proud at Vienna Essl Museum in Austria. The discussion on this particular series (11 paintings in total) evokes nostalgia. Because for Viren this series marks the revival of his miniature works that he indulged in during his college days, in early 70s and second, almost all his works bear some element from his works he did after his marriage. "These are contemporary miniatures," says Viren showing his 17'' by 17'' frames.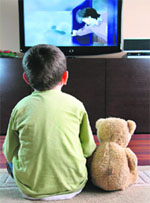 Screen test
Television is fast turning into a 'surrogate parent'. But is it really wise to bank on the 'electronic babysitter'? Lifestyle finds out
Though it had a perennial presence, babysitting, as such, is relatively a neo-term in the Indian context. In a traditional joint family system, the kids were looked after well, thanks to multiple hands— parents, grandparents, uncles, aunts, elder siblings and cousins - available to take care of them. However, as group families paved way for nuclear ones, a lot of things changed. The woman of the house started venturing out to work and single-child became a norm. But that left parents with a big task at hand - taking care of the baby.

Fusion & confusion
Ustad Iqbal Ahmed Khan, one of the few surviving custodians of Delhi Gharana, who is in the city to perform at Pinjore Heritage Fest, defines fusion music as a survival tactic
International Amir Khusro Gold medal in 1966, Youngest vocalist of the country in 1970, Best Classical Singer of the Stage, outstanding vocalist of Delhi University, Aamir Khan Trophy and Mirza Ghalib Trophy, the title of Gaayan Acharya, Sangeet Rattan and Sangeet Saurabh, Priyadarshini Award-2001 and Rajiv Rattan Sadbhavna Samman-2003. Phew…if these few lines could sum up the pioneer of Hindustani classical music Ustad Iqubal Ahmed Khan's introduction, well, consider the job half done.

A colourful treat
Crisscrossing lines in blue, overlapping red and green and underlying black on the canvas—the depiction of a metropolitan looks so apt. Kalicharan Gupta needn't make any definite shapes to show a city on canvas. The abstract form of art explains it all. Ajit Seal's semi figurative artwork, Deity, has Lord Shiva on a bull with a trident in hand, that hints at his power. N. Surender's How Green Was My? makes the theme evident with painting of trees, crop plantation and the colours beings used, green, brown and yellow. Just like these, the rest of the 45 artworks, comprising paintings, sculptures, prints and ceramics have a tale to tell at the exhibition titled Digressions being held at Punjab Kala Bhawan put up by the National Lalit Kala Akademi, New Delhi, in collaboration with the Chandigarh Lalit Kala Akademi.

Aroma of freshly grounded coffee, fluffy idlis , tangy sambhar and masala dosa —city foodies simply cannot get enough of South Indian food
Pungent in aroma, with a generous use of spices, it's the final seasoning with oil, mustard seeds, curry leaves, red chillies and urad dal that makes the Southern cuisines much liked delicacy in this part of the country. Though generally a mention of South Indian food brings to mind the images of idli, dosa, sambhar and vada, there are more to it. And the increasing number of restaurants and multiplication of the existing ones proves our point that South Indian food is indeed popular in the city.

Bon Appetit
Christmas cheer!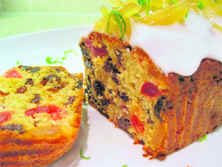 Cheers! It's Christmas, and there is a frenzy of preparations, baking, decorations and shopping the world over! Special music channels play Christmas songs round the clock, ranging from the evocative Silent Night to the comical Rudolf the Red Nosed Reindeer, setting the mood for gaiety and good times ahead. On this joyous festival, how can a piece of fruitcake do you any harm? Fruit cake, studded with raisins, cherries, sultanas and currants and a gaggle of nuts that sat perched in a jar for weeks, soaking in rum and brandy! The final baked product, more than just a cake, becomes a heady treasure chest of exquisite flavours. Have I motivated you sufficiently with the delicious description? ! Ideally the fruit should be soaked for at least one month but you get good results even after a week. So, there's still time to soak the fruit and bake this all-time favourite, so no excuses please!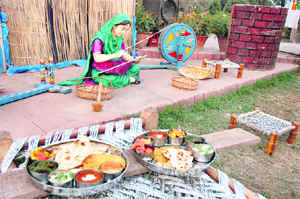 Tadka mar ke! : Having created a symbolic village, Mehak Punjab Di, a Punjabi Food Festival, begins at Funcity. Offering desi flavours for the lovers of Punjabi fare, here you can savour sarson da saag, Punjabi kadhi, aloo gobhi, rajmah rasedar, veg and non-veg thali, famous Amritsari kulcha and much more. — TNS

Tasty byte
A new cookbook dishes out recipes that are nutritious and tasty
Who says healthy has to be boring? A new cookbook from top Australian chefs shows it is possible to eat a balanced meal, and enjoy it, even if you've got a sensitive stomach. Compiled by the Australia's Gut Foundation, a charity dedicated to researching and improving awareness about digestive health, The Gut Foundation Cookbook includes breakfasts, snacks, main courses and desserts that are low in sugar, fats and, in some cases, gluten-free.
Striking the Write chord
Forever young is how you will describe Dr Birinder Kumr Pannu Parwaz, a septuagenarian, who released her collection of poems, geet and ghazals in Punjabi Sadhran da Bohia . This doctor by profession (she has worked in Army Hospital, Medical College, Patiala and BRS Dental College Kot Billa) is sure a multitasker with three books in Urdu to her credit— Gubare Dil, Zakhme Tammanna and Sukhan Sukhan. She writes and directs dramas for senior citizens and is learning singing, loves to paint, stitch, knit as well does gardening.