Bewitching Bina
Devinder Bir Kaur pays a tribute to the legendary actress, who died recently

BINA RAI was one of the top stars of the 1950s and 1960s and is best remembered for her performances in Anarkali, Taj Mahal, Ghunghat and Insaniyat. She can easily be called an echo of the past. Like Naseem Banu and Veena, she was a beauty given to Indian cinema for impersonating historic personages. No wonder then, director Nandlal Jaswantlal saw Anarkali in her and for M. Sadiq, she became Mumtaz Mahal. Besides, Bina Rai enacted historical roles in Durgesh Nandini and Chengiz Khan.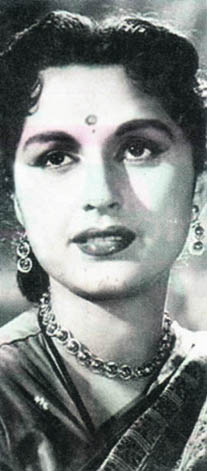 Bina Rai did not have the talent of Nargis and Nutan nor the dancing ability and versatility of Vyjayanthimala and Waheeda Rehman. Yet, she was considered a jubilee star. Moreover, in the prestigious films Anarkali, Insaniyat, Ghunghat, Taj Mahal, Bina Rai looked extremely beautiful and utterly feminine. Bewitching but not sensuous, someone an Indian guy would love to take home to his mother. No wonder, Premnath, who was known for his flings, preferred her to Madhubala when it came to legalising his liaison. Bina had met Premnath on the sets of Samson and Delilah. The two got married when Bina was just 20.
She continued to act in films due to financial problems. While her career was on the upswing, Premnath's started nose-diving. But, like she once revealed, it did not lead to any bitterness. There was no Abhimaan-like situation in their married life. In fact, some years later when she found it difficult to cope with her flourishing career and be an efficient wife and mother, she had a nervous breakdown. It was during that time that Premnath looked after her and nursed her back to health. As Bina was out of action for a long time, she finally retired while she was in her thirties and still in demand.
Taj Mahal, Dadi Maa and Ram Rajya were her last films in the 1960s. All of these fared well. Taj Mahal was a super-hit. Its music by Roshan (present-day hero Hrithik Roshan's grandfather), especially songs "Jo vaada kiya woh nibhana padega" and "Paon chhu leyne do, phoolon ko innayat hogi," are remembered to this day.
Bina's first film was Kali Ghata. Producer-director Kishore Sahu had placed an ad in a film magazine, which somehow found its way into the hostel of Lucknow's Isabella Thoburn College and the hands of a group of star-struck girls. One of them was Krishna Sarin. Krishna dashed off an application to Kishore Sahu. He invited her to Bombay for a screen test. But she kept Sahu waiting for a month as she had to complete her intermediate exams. Finally, she dragged her brother along when she was to give a screen-test. She had to mouth a dialogue "Babuji, mujhe bachao". She put a lot of feeling into the clich`E9d line and, on her own, added a heart-rending "please" at the end of it to make her plea more effective. The "please" had Sahu and the unit guffawing. After seeing the rushes, they unanimously agreed that Krishna was the girl they had been looking for.
For the film, Sahu rechristened her Bina Rai. Kali Ghata did average business but Bina got rave reviews. She got five more offers to play the leading role. She did another film, Sapna, with Kishore Sahu. Her next film was B.R. Chopra's Shole. Then came Sardar with Ashok Kumar. The thespian became so fond of her that he took her in his family-production Bandi. Then they acted together in Talash and many years later in Dadi Maa.
The evidence of Bina Rai's maturity came in Ghunghat directed by Ramanand Sagar for Gemini. The film was not only a great success, it also won Bina her first and only Filmfare award as the best actress. Music director Ravi's songs "Laage na mora jiya" and "Mori chham chham baaje payaliya" became very popular.
But the image that shall forever remain as part of Indian film heritage is that of Anarkali, which had several impersonations, notably Sulochana's (Ruby Mayer) silent and talking Anarkali and Madhubala's daring and defiant Anarkali. Bina Rai's Anarkali was a frightened girl, her beauty having become a victim of her evil fate. Lata Mangeshkar sung "Yeh zindagi ussi ki hai" is an immortal song. Even if Bina Rai had played just this one role, she would still have lived in our memories forever.