M A I N N E W S
Nine dead, 50 missing in Kota bridge collapse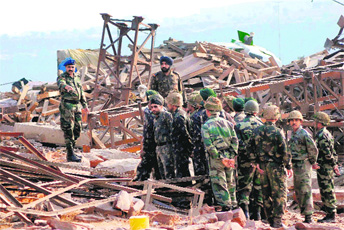 A military team searches for missing workers during a rescue operation after a bridge collapsed at Chambal river in Kota on Friday. — PTI

Kota, December 25
Rescuers today continued to search for 50 labourers missing after an under-construction bridge on Chambal river collapsed here killing nine persons even as two officials of a private company building the structure were arrested.
The Chief Project Officer of Hyundai, and R Chattopadhya, Deputy Manager of Gammon India, have been booked under sections 304 (culpable homicide not amounting to murder) and 308 (attempt to commit culpable homicide) of the IPC and lodged in the Kunahri police station, Divisional Commissioner PL Agarwal said.
While six bodies were recovered yesterday after the incident, three more were found today from the debris. Three mutilated bodies of labourers were spotted and detached from steel rods from the site by rescuers this afternoon, said IGP Rajiv Dasot. The accident occurred when around 100 labourers were working there, Kota Collector T Ravikant said quoting eye witnesses.
The injured were admitted to two private hospitals, where condition of three labourers was said to be critical, he said. The Army, which was called in last night, has been assisting civil administration in the operation to locate the labourers, who were feared trapped either inside the debris or swept in the current of the river, the Collector added. Divers, cranes and welders have been pressed into action, he said chilly weather was hampering the rescue operations.
Meanwhile, an administrative probe has been ordered into the incident. The inquiry was ordered by Chief Minister Ashok Gehlot, who visited the spot today. The probe will be carried out by Divisional Commissioner PL Agarwal and additional Chief Engineer of Public Works Department. — PTI