COLUMNS

THIS ABOVE ALL
TELEPROMPT
GOOD MOTORING
LIFE'S LESSONS
LEXICON
WEBSIDE HUMOUR

FOR CHILDREN

CROSSWORD
ROOTS
RHYME TIME

Earlier Feature
TELEVISTA

AUDIO SCAN

Sports beyond cricket
Even as cricket still ruled the roost, other games and players held their own in the year gone by, writes M. S. Unnikrishnan
Though cricket dominated the Indian sportscape in 2009, sports persons in other disciplines did just as well, to make it a riveting year.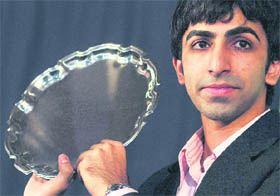 Pankaj Advani, Saina Nehwal, Vijender Singh, Suranjoy Singh, Leander Paes, Mahesh Bhupathi, Sania Mirza, Yukhi Bhambri, Somdev Devvarman and Baichung Bhutia produced landmark feats to make it an eclectic mix of success. In team games, football and Davis Cup teams stood out, but cricket continued to rule the roost, still. The hockey team did not have much to crow about, and their failure to qualify for next year's Champions Trophy was quite a big letdown.
Pankaj Advani holds the titles of World Billiards, Asian Championship, Asian Games and the National Championship Photo: AFP

The great Punjabi
For Punjabis it is but natural to dominate and evince interest in whatever is happening around. They praise themselves and boast about their kids. The desire to go abroad is equalled by their love of marrying a mem, writes Aruti Nayar on the defining traits of the community
Helloji, shouted my neighbour from across the balcony. A true-blue Punjabi, she found nothing wrong in liberally lacing her sentences with a wonderful mix of Pinglish (Punjabi and English for the uninitiated). Just as she found nothing amiss or ill-mannered in asking, not only me but all those who came to my house and happened to bump into her in the common corridor, about where they were going or coming from.
Calendar for a cause
Chetna Keer Banerjee on the 2010 table calendar by People For Animals, which has paintings by leading artists
Copenhagen may or may not have been a 'hopenhagen' at the close of 2009, but at least 2010 will open, literally, on a green note that should leave the expanding breed of climate change activists smiling. For, green greetings for New Year are getting a further push with even designers taking the cause beyond couture craft to calendar art.
Glow on your wedding
The ubtan ceremony marks the beginning of the customary dressing up of brides and bridegrooms. Wellness, beauty and rejuvenation remain the purpose of all such preparations , says Sharmila Chand
The ritual of ubtan is the legacy of the rich Indian heritage. Known as battne di rasam in Punjabi, and kappumanjal in Tamil, ubtan is one of the vital components of the concept of solah-shingaar (16 ways of beautification of the body).