Fast forward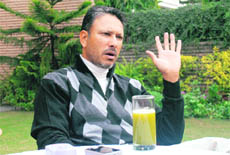 Jeev aims for a slot in the world top-30 and top fitness, writes Donald Banerjee
Jeev Milkha Singh has got the ticket for full playing rights on the US PGA Tour. The focus for the New Year is absolute fitness and a resolution to make it to the top-30 in world golf rankings. The Chandigarh golf icon, who slipped to 56th slot from his 35th placement at the start of 2009, is a more determined player today. His aim this year is to bag a US Tour title for his kitty.
Promising time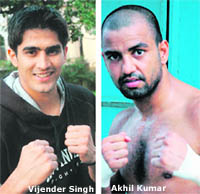 Vijender Singh and Akhil Kumar have decided to work on fitness
Gagan K. Teja
New Year brings a new ray of hope and a commitment to achieve what one has always dreamt of. Itís a new way of dealing with problems and when it comes to Indiaís top sportspersons, it brings along a promise to be more dedicated and passionate about the game, will to achieve something better and hence, make the nation proud. Like every human being, they are made of same blood and bones but the will to be the best is what differentiates them from the crowd.

Games plan
Abhinav Bindraís New Year resolution is to be focussed and train well for the Commonwealth Games
Abhijit Chatterjee
The year gone by has been one where Indiaís only individual Olympic gold medal winner Abhinav Bindra has had one full year of carefree existence, probably for the first time in his life. And why not? As he had resolved, he wanted year 2009 to be one "without any anxieties."
Play it again...
Reetinder Sodhi has resolved to work hard on playing for Kings XI in IPL-2010


While everyone is busy framing resolutions for the New Year, there are some who just donít believe in this concept. Patiala cricketer Reetinder Sodhi is one such guy who believes in living in the moment and takes everything that comes his way happily. Born and brought up at Patiala, Sodhi first burst into national recognition in August, 1996, with a superb all-round display (3 for 34 and 82 not out) as captain to win the Under-15 World Cup final against Pakistan at Lordís.