Tale of failure, guilt and hope
Reviewed by Kavita Soni-Sharma
Home
By Marilynne Robinson.
Virago, London.
Pages 339. Rs 395.

THE novel takes place in the mid-1950s in the small town of Gilead, Iowa. It is set in the house of a retired pastor, Robert Boughton, who is a widower in frail health and is being cared for by his younger daughter Glory.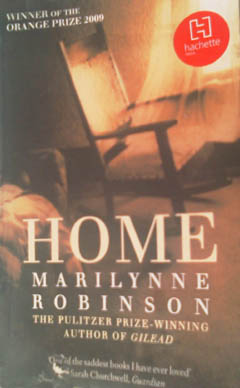 Although Reverend Boughton has led a decent life, he is worried about what will happen to his children after his death. He is especially concerned about the fate of his son Jack who had left home after he had caused them shame with a string of much gossiped misdeeds.
Jack is the most loved and most destructive member of his minister fatherís large brood. While his other siblings were good, kind and jovial, Jack embraced delinquency as a declaration of independence.
Despite the love and attention of his family, Jack gets into trouble again and again, finally fathering a child with a poor young woman from the town. He then abandons her and the child who dies early. After some 20 years wasted in prison and drinking, he returns home seeking refuge and redemption.
Jack is the Prodigal Son whose absence has created a vacuum in his fatherís life and concern amongst his siblings. Old Boughton is overwhelmed by Jackís bewildering return but the pastorís hungry longing for his son only distances the two further, despite the painfully apparent need each have for the otherís love and approval. As a result of this, unlike Jackís Biblical counterpart, the miraculous restoration never quite happens and the story elaborates on what happens after the prodigal son comes home.
Jackís long-standing adversary Congregationalist Reverend Ames is a close friend of Robert Boughton. The return of Jack alarms him as he fears his influence on his young second wife and his son. Ames comes across as an unforgiving, grumpy old man and his unwillingness to take action is a major contributor to the miseries in the Boughton household.
Like Jack, his younger sister Glory, a lonesome 38-year-old English teacher has also returned to Gilead. She is getting over a broken engagement to a man she has discovered is already married. Disappointed in love, she asks: "What have I done with my life? What has become of it? It is as if I had a dream of adult life and woke up from it, still here in my parentsí house." Glory returns home to escape her mistakes and acts as our guide through the story.
When Jack arrives home to visit his father, he and Glory meet each other warily. Jack is a stranger to his own family and hometown. Glory vacillates between her desire to get closer to her brother and her resentment against him for all his irresponsible behaviour as in his crime and crisis-filled childhood she was often left to pick up the pieces.
However, brother and sister cautiously begin to know each other again and demonstrate a gentle courtesy as they walk down the memory lane. They come to their fatherís house when it seems they have nowhere else to turn: when every other road leads to a dead end. Even when one is exiled from a place one never felt native to, the hope of home can be an enduring balm. Weary or bitter or bewildered as we may be, God is faithful. He lets us wander, so we will know what it means to come home.
For Jack and Glory, home is both comfortable and haunted filled with old promises and fresh resignation. Both return home where they brood, console and grapple for some kind of grace. However, Jackís efforts at mending fences and clearing misunderstandings are not altogether satisfactory and he reverts to drinking. Gloryís skills at handling the situation are not adequate and she is not able to prevent her wayward brotherís attempt at suicide. Jack comes to view himself as nothing but a failure and after sharing some of his sins and secrets he decides to leave.
The book despite its inherent unhappiness ends on a note of hope. It offers a poignant portrait of a family longing to heal. Robinsonís intent is on highlighting the subtleties of dialogues between her characters and unraveling the ties of relationships. Biblical overtones run through the text giving it a spiritually rich texture. Here is a profoundly moving piece of writing about families, love, sorrows, disappointments, faith and forgiveness.