Tête-à-tête
Stage presence
Nonika Singh
Decades ago he told thespian Ebrahim Alkazi; I don't want to make theatre my career. Had he stuck to his words, the world of contemporary Indian theatre would have been infinitely poorer. Bhanu Bharti, the gifted theatreperson who had to literally eat his words, has carved a firm niche for himself in the annals of theatre. Creating a new signature with each production, straddling different genres, he firmly believes, "Theatre cannot be tailor-made." Any wonder, his first production as a student of The NSD was a leaf out of theatre of the absurd. When he chose Ionesco's The Lesson as his diploma production, even Alkazi was stupefied. Interestingly, Bhanu doesn't go ga ga over his NSD experience but equates those days with one man, Alkazi, who taught him everything there was to learn about theatre.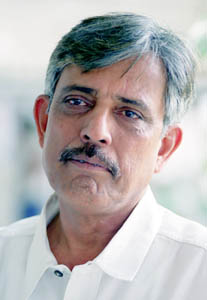 Out of the NSD, Bhanu was to learn much more and create as much. His 36-year long odyssey is dotted with many milestones and some daring attempts like "tampering" with none other Shakespeare's written word. Today, Arthur Millers Death of a Salesman might have become a rage, he had the gumption to adapt it way back in 1982, when it was an unthinkable idea. Aptly calling the play Ek Sapne Ki Maut he made his protoganist a Punjabi refugee.
"Adaptation", insists Bhanu "is far more challenging than writing an original play." Having published three of his original plays he is anyway a reluctant writer and wields the pen only as a last resort. Or if the idea becomes overpowering. So, while grew out of Japanese fable of a monkey queen which many though alluded to Indira Gandhi. Naachni, one of his most acclaimed plays, fleshed out of a sketchy research paper. The paper recalls Bhanu had little to offer except one line that informed how Naacha women are not even buried and their bodies are left out in the open for vultures. He shudders, "Suddenly, the whole gamut of how society looks at women performers flashed into my mind and gelled into a play." Luckily for him, he had Sindhu Mishra, a trained dancer, to play the part.
Bhanu shares that actors are very important to productions and often it is their strengths and weaknesses that can lend a whole new meaning to a play. He muses,
"Back in time, directors came into the picture only to serve as a bridge between playwright and actors. Soo, of course, theatre became more than histrionics and directors began to lend new meanings and nuances to theatre." Pray, then why is theatre called an actors' medium and what explains the fact that in India it is theatre directors who are far more celebrated than actors? He agrees that in India invariably theatre groups revolve around directors for, "Since theatre is in no condition to afford actors, they tend to move away." Wasn't he tempted to drift away, especially towards cinema? He is nostalgic, " The moment I read Lorca's Yerma and Blood wedding, I saw it as a film set in Rajasthan".
But, whenever the idea was narrated to his friends from the film industry no one seemed interested in a woman-oriented subject.
Today, cinema might have opened up to new and unconventional subjects but has become such an expensive medium that he can hardly afford to dabble in it. Besides, he quips, " Cinema is all technology." And, he prefers the livewire connection with actors and the audiences in short the community. Always intrigued by ritual and its connection with community he says, "It is this connection that makes theatre happen."It is a lesson that he learnt while working with tribals, when he won a scholarship to work with Khayal theatre in Rajasthan. Oh, yet again. Why are NSD alumni obsessed with traditional forms and actors? He shoots off, "More than anyone else, it is me who spoke against this "return to roots" as a fashion statement." In fact, he has never endorsed the cut and paste theatre. So, after his return from Japan where he studied Kabuki theatre for good two years, he could easily have transposed the form in his plays, especially The Elephant, a Japanese play. Of course, he did not. But then theatre for this younger brother of celebrated theatre person, Mohan Maharishi, is very much an individual journey.
Not the one to be overshadowed by influences, not even of his elder brother, he prefers to bask only in his own limelight that he has rightfully earned. Yet, he sums up his theatre journey rather modestly: "I have not seen total failure." But then, for a man who has always walked the tight rope, not slipping, too, is an admirable feat.