2009 honours list
Amar Chandel

THE year 2009 has come to an end and there is a cut-throat competition among various associations and organisations to give away special awards to prominent personalities. Here is a sneak preview of the honours that are going to be conferred on the Who's Who in the days to come.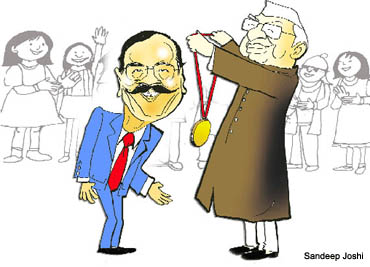 The All-India Builders and Sculptors Association has unanimously chosen Mayawati for the Tallest Leader Award. The award comprises a 100-kanal plot in Greater NOIDA and a purse containing Rs 100 crore in five- rupee notes (tax paid). But in another prestigious category, she has been pipped at the post by Madhu Koda, who has walked away with the Politician of the Year Award instituted by the Mineowners Association (Breakaway Group). He will be presented the keys to a five-star hotel in Pattaya (Thailand) and 11 note-counting machines.
Both the Auctioneers Club and the Brokers Conglomerate have chosen Shibu Soren as their Man of the Year. He has declared that he will go to receive the award of only that organisation which accepts him as its president.
The Astrologers and Crystal Grazers Panchayat has divined that the most appropriate recipient of its annual award will be Haryana Chief Minister Bhupinder Singh Hooda. Bhajan Lal Deemed University will be conferring the Ph. D in Politics (Honoris Causa) on another Haryanavi, Kuldeep Bishnoi.
National Carrier Indian (Airlines) has not given its 2009 award for the Best Passenger to any individual but to all MPs as a group. They will be permitted to bring as many wives and children to the function as they want.
The Pakistan-based Truth Above All Majlis has decided to give its highest honour to Ajmal Kasab in absentia.
Partygoers International has selected Barack Obama for the Gatecrasher of the Year Award for his outstanding performance during the India-China-Brazil-South Africa meeting in Copenhagen.
The Monica Lewinsky Trophy for Extracurricular Excellence will be handed over to Tiger Woods by Bill Clinton at a glittering function outside the Oval Office.
The Class Cattle Breeders and Exporters Union has named Shashi Tharoor as its brand ambassador. Music Beyond Boundaries, an NGO based in Bollywood, has reserved this year's top slot for composer Pritam for his inspired compositions. Anu Malik will give away the award while Bappi Lahiri will preside over the function.
Raj Thackeray will be delivering the keynote address at the annual function of the Akhand Bharat Navnirman Samaj, where Rakhi Sawant will be given the title of Adarsh Dulhan and Manu Sharma that of Adarsh Putra. This year's R. K. Sharma Medal for Meritorious Police Service will be given to S.P.S Rathore by N. D. Tiwari.