A journey of exploitation from brothel to stage
A periodical play depicting the plight of women theatre artistes in 19th century Bengal has been adapted for contemporary times by National award-winning director Anjan Kanjilal.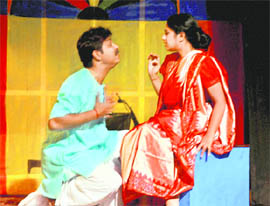 The story of Binodini Dasi, a leading yesteryear actress, was a source of inspiration for the play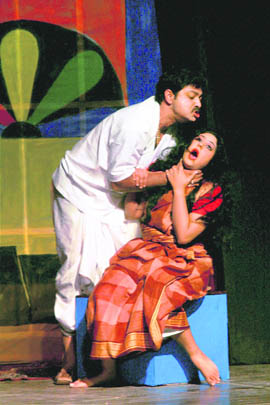 Bengali play "Bismillah", directed by National Award-winning director Anjan Kanjilal, deals with the exploitation of women Photos: PTI

Inspired by real-life stories "Bismillah" is a full-length play by theatre veteran Anjan that explores the life of a yesteryear theatre artiste who discards her brothel upbringing and becomes a star actress only to find herself being exploited.
"Very few women did theatre in the 19th century, which was mainly dominated by men. And, those who did venture on the stage came from impoverished and disreputable families. I wanted to tell the story of such women who played strong roles on stage but lived a life of exploitation and abuse," says Sumana Kanjilal, who wrote "Bismillah".
The story of Binodini Dasi, a leading yesteryear actress, was a source of inspiration for Sumana. Recruited from prostitutes' quarters at the age of 11, she soon became the leading actress of several major theatrical companies, who used her to gain profits and then discarded her.
"In the 1980's the media had reported the news of a 75-year-old artiste living in a dilapidated building all by herself. We also follow a similar plot in our play," says Anjan.
During the play, the director uses a projector to show shots of the winding alleyways and the derelict building in Kolkata city, where two reporters discover and befriend the actress.
"We have juxtaposed the scenes with flashbacks. The lady recounts her experiences as an illiterate woman, who learnt to speak in English by listening to others," says Anjan.
"Bismillah" received a good response during its shows held in the capital recently, says the director. "We had distributed feedback forms to the audience and were happy to receive an overwhelming response from Delhiites," says Anjan.
The cast of 11, including six women, mostly comprised youngsters, some of them who were new to theatre. "We had to conduct special workshops for them," says the director.
Anjan Kanjilal's Green Room Theatre company is next looking to produce "Ashuk" (Disease) again in Bengali, that depicts the "corruption prevailing in the world of theatre. — PTI