Clash of titans
Star primacy is the key to boxoffice success with all major productions of the year
being linked to one of the Big Five of Bollywood, writes Derek Bose

IF there's one lesson 2009 has left Bollywood with, it is that small can no longer be beautiful. The days of Bheja Fry, Khosla Ka Ghosla, Mumbai Meri Jaan and all those lovely, low-budget films that had once set the box-office on fire, are over. What works now is bigness — big stars, mega budgets, spectacular sets and over-hyped melodrama. Last year's hits like Love Aaj Kal, Ajab Prem Ki Ghazab Kahani, New York and Wanted have proved this in ample measure.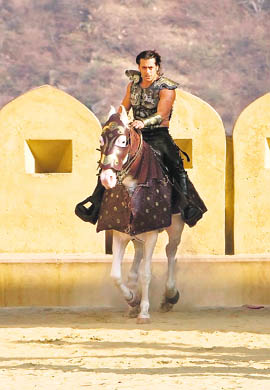 As 'Indian gladiator', Salman Khan plays a tribal warlord in an indeterminate region in Anil Sharma's Veer taking on the might of the British Raj around the time of the outbreak of the First War of Independence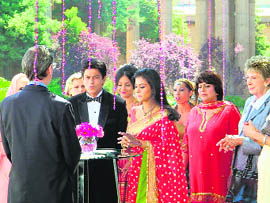 King Khan is hoping to recreate the magic and euphoria of Om Shanti Om with My Name Is Khan, a serious issue-based film on racial profiling

But then, as always, there is a twist in the tale. An indication of what 2010 has in store is provided by two recent releases: Rajkumar Hirani's Three Idiots and R.Balki's Paa. Both have unusual storylines. The former, based on a Chetan Bhagat's bestseller, Five Point Someone is about three blokes whose friendship and career choices are influenced by the grades they get in college. Aamir Khan, R. Madhavan and Sharman Joshi play the three characters with a romantic angle thrown in by Kareena Kapoor for good measure.
In comparison, Paa is a more staid and controlled movie revolving around a 12-year-old boy afflicted by progeria, a debilitating disease that hastens the ageing process. It is hard to say whether the film is about his medical condition or about a single mother bringing up such a severely ill child or about a politician learning the ropes of his profession. But one thing is clear: the film has little to do with the father (Abhishek Bachchan) and is more about a mother-son (Vidya Balan-Amitabh Bachchan) relationship.
Yet, Paa has been promoted as a "very unusual father-son-father story" — all because this is an Amitabh Bachchan film and it has the 67-year-old thespian playing the 12-year-old who drives the narrative. Likewise, in Three Idiots, regardless of whatever role whoever plays, it is ultimately an Aamir Khan film. He is the ultimate selling proposition for the film. All other elements, including the subject and treatment, become incidental or secondary. In effect, what is made out as an offbeat film with an unusual storyline turns out to be actually another star-propelled vehicle.
That star primacy is the key to box-office success becomes all the more apparent from the kind of films lined up for release in 2010. All major productions of the year, without exception, are linked to one of the Big Five of Bollywood: Shah Rukh Khan, Aamir Khan, Hrithik Roshan, Akshay Kumar and Salman Khan. But age has caught up with them and they have become acutely conscious of their limited shelf life in the face of mounting competition, mainly from spunky youngsters like Ranbir Kapoor and Imran Khan. Rather than collaborate and consolidate their position, each is fighting a lone battle to protect his turf and perpetuate his hold on the industry.
This is how the chips are stacked for them in 2010:
Shah Rukh Khan: After the rather tepid response to Rab De Bana Di Jodi and Billoo, King Khan is hoping to recreate the magic and euphoria of Om Shanti Om with My Name Is Khan — only that this happens to be a serious issue-based film on racial profiling. Shah Rukh is an Indian Muslim in Los Angeles who must clear his name, following a wrongful detention by US authorities in the aftermath of 9/11. Trouble is he suffers from Asperger's Syndrome (a form of autism) and his unusual mannerisms are taken to be "suspicious behaviour". Old pal Karan Johar directs and Kajol plays his wife.
Hrithik Roshan: Although there are three other starrers lined up for 2010 – Guzaarish, Kismat Talkies and Krishh 2 — it is Kites that Hrithik is pinning all his hopes on. It is a hugely ambitious project with papa Rakesh Roshan still undecided about an "opportune time" for release. Hrithik plays the bearded hero — a wanted man given up for dead in the Mexican desert — in search of the love of his life, a ravishing beauty, who now happens to be married to another man. Brazilian actress Barbara Mori plays this girl while Kangana Ranaut is in the second lead. Director Anurag Basu has "designed" this romantic thriller as a Hollywood production with two versions — English and Hindi — ready for release.
Akshay Kumar: After recent flops like Blue and De Dana Dan, the actor has obviously turned over-cautious and is spreading his risks across as many as four films: Helloo India, Action Replay, Khatta Meetha and Patiala House. Of these, two are complete. Vipul Shah's Action Replay is a trip down memory lane with Akshay playing an old man reflecting on his youth during the 1970s, whereas Nikhil Advani's Patiala House has him cast in the role of a rakish sardar in London who undergoes a change of heart when he finds a new girl in his life. Both are substantive films — a clear departure from the action-oriented, mindless comedies that have backfired on him, of late.
Aamir Khan: Dhobi Ghat is again an Aamir Khan film although Prateik Babbar, Monica Dogra and a host of theatre actors (not to mention real-life characters on location) play key roles in this mockumentary of sorts. The producer-actor plays a hard-up painter who lives and works from a tiny studio apartment in a noisy and congested neighborhood of Mumbai. More than anything else, this is Aamir's launch vehicle for wife Kiran Rao as director and as rumours go, he had even auditioned for his role in the film. Clearly, this is one mega star who cannot leave anything to chance.
Salman Khan: Few Hindi films can match the scale of production of Veer. As 'Indian gladiator', Salman is aiming to outdo the multiple-abs shirtless look of Hrithik (Dhoom 2), Shah Rukh (Om Shanti Om) and Aamir (Ghajini) combined. He plays a tribal warlord in an indeterminate region, taking on the might of the British Raj around the time of the outbreak of the First War of Independence (1857-59). Director Anil Sharma has deliberately left all historical references ambiguous, the clear objective being to project Salman as a valiant, larger-than-life folk hero with a beefed-up, bronzed look. The latter has reportedly taken a 50 per cent fee cut for what is being seen as the make-or-break film of his career.
There are of course, several dark horses such as Saif Ali Khan (Race 2), Shahid Kapur (Milenge Milenge), Amitabh Bachchan (Teen Patti, Rann) and Ajay Devgan (Rajneeti) who are also in the reckoning. Sanjay Dutt too has been on a low key for a while but has important films like Chatur Singh Two Star and Knock Out coming up. All these stars are capable of pulling off a couple of surprise hits and change Bollywood's existing equation. The crucial factor here is not the acting talent, story-telling skills or directorial merit. It is the hype a film is able to generate that would determine its success. And for that you need the money and stars — the bigger the better. In many ways, Bollywood has come full circle.