3 Idiots was the easiest to make: Rajkumar Hirani
DIRECTOR RajKumar Hirani thinks that 3 Idiots was the easiest of his films to make as the protagonists — Aamir Khan, Sharman Joshi and Madhavan — were not involved with any other project at the time.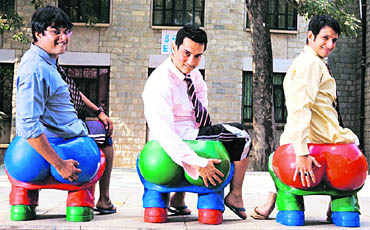 "It became very easy for me to make 3 Idiots because neither of them were doing any films at that time," Hirani said here, adding: "They were always available, whether I planned to take a shot at four in the morning or at 12 noon."
Before starting the shoot, they rehearsed for a month. "We did rehearsals for a month before starting the shoot. So, when we started shooting the film, everyone was prepared. It took three years after Lage Raho Munnabhai to release the film but I don't feel that it is taking a very long time," said Hirani. Speaking about the script, Hirani was all praise for his co-writer Abhijat Joshi's dedication towards his work.
"Abhijat is a person who loves to work continuously. When we started writing the script, we decided that for one month, we won't write but only speak to each other and share anecdotes related to the script. I spoke about my experiences in college and he shared his. If any anecdote was found relevant to the script, we recorded it," Hirani explained. "We never sat at home to write the script. We used to go out and sit somewhere, like at Band Stand. Sometimes it happened that we worked the whole night, sitting there until five in the morning. I normally don't get tired fast, but Abhijat beats me at times," he added.
Abhijat and Hirani had also worked together on Lage Raho Munnabhai. The story of 3 Idiots was based on author Chetan Bhagat's Five Point Someone. "The idea was originally taken from Chetan Bhagat's Five Point Someone but when we started working, we realised that we couldn't really adapt the book, we will have to modify it to shoot a film because the way you write a script for the film is very different from writing a book," said Hirani. "In 18 days we had finished the structure of the book. Then to streamline it, do the dialogues, change it and see that everything is woven properly, it took us a year and a half," he added. — IANS