PUNJAB
HARYANA
JAMMU & KASHMIR
HIMACHAL
REGIONAL BRIEFS
NATION
OPINIONS
LETTERS
BUSINESS
SPORTS
WORLD
Monday, January 4, 2010, Chandigarh, India
Updated at 3:00 am (IST)

Fog brings life to a standstill
50 flights delayed, 23 trains cancelled
New Delhi, January 3
Dense fog in North India played havoc with movement of flights and trains for the second successive day today, with Delhi being the worst hit.


Punjab Page: Farmers upbeat over widespread rain in region
white Trail:

Central Reserve Police Force personnel keep guard near a rail track in Pulwama district of South Kashmir as the Kashmir valley receives a fresh spell of snowfall on Sunday. — PTI
CAST YOUR VOTE
Should the Ruchika Girhotra molestation case be re-opened?

EDUCATION
JOBS & CAREERS
HEALTH & FITNESS
SCIENCE & TECHNOLOGY
REAL ESTATE
SPORTS
A Tribune Exclusive
Official apathy powered down northern grid
Delay in switching over to fog-resistant technology, poor maintenance of high-tension lines to be blamed
Jalandhar/New Delhi, January 3
Alleged apathy on the part of the northern states in installing new fog-resistant technology coupled with poor upkeep of high-tension lines apparently resulted in power grid collapse on a foggy day around 3 am yesterday.
India can compete with the best: PM
But cautions against red tape to boost scientific growth
Thiruvananthapuram, January 3
Noting that there was no barrier that "we cannot overcome", Prime Minister Manmohan Singh today said India could compete with the best in the world given the country harness all the talent that exists.
Headley known face in Mumbai party circles
New Delhi, January 3
Security agencies have been able to get an insight into the personal life of American terror suspect David Headley, with his estranged Moroccan wife telling investigators about connections he had in Mumbai, including with some socialites.
Advt
NDA 60 Glorious Years
1857 The First Challenge
E - Revolution 2005:
A Two-day IT conclave
Assembly Elections - 2005
Turbans
Chandigarh is 50
125 Years of The Tribune
India: The Tasks Ahead
India at Sixty
A Tribune Supplement
EARLIER FEATURES
On Sundays
On Saturdays
Delhi orders probe into escape by ultras
New Delhi, January 3
Desperate to nab the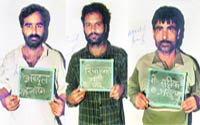 three Pakistan-trained terrorists who gave cops the slip from here yesterday, the Delhi police today released their photographs and even announced a cash reward of Rs 50,000 each for information leading to their arrest.

A file photo of the three militants who escaped police custody
Punjabi youth stabbed to death in Oz
In the first attack on an Indian this year, 21-year-old Nitin Garg, who migrated from Punjab and had permanent residency in Australia, was stabbed to death in Melbourne's northern suburb of West Footscray on Saturday night. He became the first victim to succumb to his injuries, amid a string of racial attacks on the community members in Australia.
Fallout of Ruchika Case
Can't let bigwigs take law for a ride: HC
Chandigarh, January 3
Taking suo motu cognizance of Ruchika molestation case, the Punjab and Haryana High Court has asserted that time has come to put on fast track cases pending against the bigwigs — top cops, bureaucrats and politicians.
Fog throws life out of gear in region
January 3, 2010

Rathore gets interim relief
January 2, 2010

CBI gets sanction to prosecute Sajjan
January 1, 2010
Rathore faces SIT probe
December 31, 2009
Ruchika case to be re-probed
December 30, 2009
Tharoor 'tweet' earns rebuff from Krishna
December 29, 2009
Headley not to be extradited: FBI
December 28, 2009
AP Guv ND Tiwari resigns
December 27, 2009
Ruchika case needs to be reviewed: Moily
December 26, 2009
Crisis deepens in Andhra
December 25, 2009