M A I N N E W S
Steaming success for villagers
Pool money, get railway station
Sunit Dhawan
Tribune News Service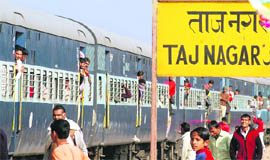 Commuters at the new station. Tribune photo: Sayeed Ahmed
Taj Nagar (Gurgaon), January 5
Where there is a will, there is a way. The residents of this hitherto non-descript village in Gurgaon district have proved this old adage true even in the present era, when authorities' apathy towards common man's plight has become the order of the day.
Having suffered inconvenience for a long time due to the lack of a railway station in their village, the local residents managed to convince the Railways authorities, pooled money and got a railway station constructed with Rs 24 lakh of their own.
The novel initiative and collective efforts of the villagers bore fruit when the passenger trains on the Delhi-Rewari line began halting at the village today. As many as seven up and seven down trains on the track will now halt at the village railway station, benefiting residents of nearly 20 villages.
Upbeat over their accomplishment, the villagers started gathering at their railway station since early this morning, much before its formal inauguration. Many of them bought tickets to Delhi, Rewari and other stations from the booking window in between just to express their gladness.
Several volunteers were seen distributing ladoos to curious visitors, commuters and others present at the railway platform while the inaugural ceremony was in progress. Groups of the elderly, women and children kept on crossing over the railway lines time and again in sheer enthusiasm, giving a tough time to the Railway Protection Force personnel deployed there.
Gurgaon MP Rao Inderjeet Singh, who had been invited by the villagers to inaugurate their railway station, complimented them on their achievement.
The MP did not announce any grant sought for the railway station or the village, though he advised the villagers to purchase tickets from the railway station even if they did not have to go anywhere. "The Railways will upgrade the train halt to a flag station if it fetches them a monthly income of Rs 3 lakh for six months," he maintained.