All chill, no thrill
So many people have so many reasons to hate the winter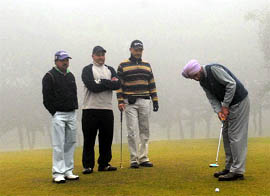 Another reason why we never wanted to grow up in life! We envy, we are turning green and why shouldn't we be! A little surge, a little plunge, or even if constant, temperature wouldn't do us any good, it's partial and kind to only kids (their winter holidays just got extended). What bad did we do to never get such blessings? What did we do to suffer from the chill even when woollens account for more than half of our weight? What did we do that we have to work on the keyboard with our cold, numb, almost dead fingers?
Photo: Pradeep Tewari
Layers of oomph
Look chic and stay warm in a combo of mini skirt, leggings and knee-high boots
It's cold and it's time for pile on, keep warm and look stylish. It's the perfect time to get creative with your wardrobe, play around with accessories and flaunt the lots-of-layering look. Colorful scarves, chunky knits, high-heeled boots, chic coats and cozy caps….there is nothing in the world of women fashion that can go wrong in the winter, unless it's the attitude. When the weather drops, you get high on the trend meter with seriously cool styles, without burning a hole in your proverbial pocket.
Fashion cocktail
Femininity is back in vogue in form of cocktail jewellery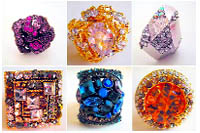 Concocting a heady mixture of colour and charisma, it's the cocktail jewellery that has caught the fancy of designers as well as consumers. While it was pioneers like Coco Chanel and Elsa Schiaparelli who encouraged women to use costume jewellery and mix it with genuine gem pieces, back in 1920s cocktail jewellery was more of fake ornaments. But courtesy these two designers, today we have a range of fabulous fakes, better known as cocktail jewellery studded with precious gems, stones and diamonds.
Singh is indeed King!

He's a sturdy Sikh who has made his mark on the ramp and believes that Singh is King. Meet Simranpreet Singh, a computer science student, who to his credit has the title of Best Turban for Mr Singh and Kaur-2008, two titles of Best Physique and Mr Singh for the Mr Singh India 2009 and the latest has been the title of Best Physique for Mr Singh International that was held in Amritsar in November 2009. Simranpreet, who started modelling in class X, says, "I was an unfit guy. It is because of my father I got into a fitness regime and later entered the modeling scene. I started my career with Launchers, a company that used to train Sikh boys for the ramp. It was in the year 2008 that a friend suggested that I take part in a modelling competition. And, there I was participating in the Ayur Mr Singh and Kaur-2008 and bagged the title of the Best Turban award."



Simranpreet Singh
More than a thousand words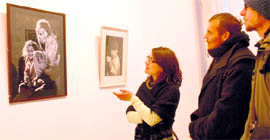 Ranjit Singh's photographs are born out of happiness he has experienced in life A mother taking care of her infant daughter. Elder sister playing gleefully with her younger siblings. Children in a village pose together readily for a picture. Some expressions on human faces and human faces in all the pictures.


Photo: Pradeep Tewari
Cold comfort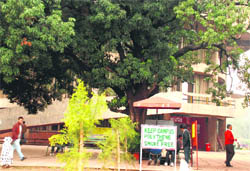 Lots of absents, couple of 'Yes Ma'ams' and the chill seemed to have left the roll call in cold. Of course, it's happening round the year, just that the varsity on first day of New Year was in warm up mode. Not that the rash brash brigade was hibernating, it's just that not many can check out the babe across the Stu-C lawns from a foggy haze! Meanwhile, the excuses start pouring. "I didn't come because nobody else was coming," laughs Himani Bahuguna, second semester student, Panjab University. She adds, "Well, you ask anyone around and they'll put forth the same reason." Actually time to move out of classrooms and ask around.