Maan-made saga
Fresh, bubbly, beautiful, just as she looked way back in QSQT, Juhi Chawla is the same today. Only a bit leaner. In city at the music launch of her forthcoming Punjabi flick Sukhmani - Hope for Life, Juhi Chawla, in a red and white suit is a true charmer.


| | |
| --- | --- |
| Manjeet Maan's director debut Sukhmani:|Hope for Life pairs Gurdas Maan and Juhi Chawla once again — Photo by S. Chandan | |
Mum's not the word!
The study that says a mother's working status is adversely affecting the teen's mental health, does not cut much ice with city residents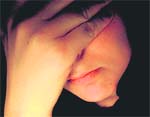 Teen suicides are on the rise and they are related to myriad reasons. Though depression is the most common cause that leads many teenagers taking to anti-depressants and attempting suicides at the prime of their lives, there are numerous other reasons as well that lead to this hideous act, and it was just a few days back that we read about this eleven-year-old commit suicide, since she was not allowed to go for dance classes.
Birthday bells
The golden boy of Indian music A. R. Rahman turns 44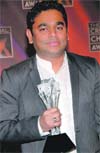 Double Oscar-winner A R Rahman is looking forward to bring home his maiden Grammy award as he turns 44 on January 6.

The composer who won two Grammy nominations for his soundtrack from Slumdog Millionaire, has never been the one for raucous celebrations and ringed in his birthday with close family and friends. From performing for US President Barack Obama to collaborating with international artistes, including Pussy Cat Dolls and Kylie Minogue to becoming the first Indian to win a Golden Globe and two Academy awards, Rahman has become one of the most sought after names in the industry.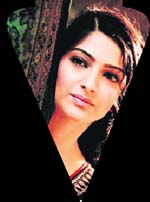 In vogue
Sonam Kapoor, the new Roberto Cavalli muse
Bollywood's latest sensation Sonam Kapoor has ushered in the new year with style by gracing the cover of Vogue magazine's latest edition in a Roberto Cavalli's creation. The Masakalli girl will be seen donning Cavalli's designs and talking about her transition from flab to fab in the magazine.

"The unique thing about the collection this time is that there are no prints. Generally he (Cavalli) has lots of prints especially animal prints but there aren't any this time and I love it. It is really beautiful. It is goth and it is really street and sexy," Sonam said.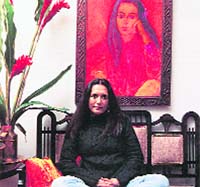 Come September
Deepa Mehta to begin filming Midnight's Children
Canada-based Indian filmmaker Deepa Mehta says she has finished writing the script for the big-screen adaptation of Salman Rushdie's Booker Prize winner Midnight's Children and will start filming in September this year. "We've just finished the screenplay (for Midnight's Children) and we're going to do the casting in the next couple of weeks. We hope to start filming September," Mehta said.

"It (the movie) is totally based on Salman's book," she added on the sidelines of the first Pravasi Film Festival that started here Sunday.

SRK on twitter
Bollywood's badshah has joined Twitter and has amassed a following of 20,300 followers
After Karan Johar, Priyanka Chopra and Preity Zinta, now Bollywood superstar Shah Rukh Khan has joined social networking site Twitter.

My mother is a perfectionist, says Soha Ali Khan
Soha Ali Khan shared the screen space with veteran Sharmila Tagore for the first time in Life Goes On. But the actor insists that facing the camera with her mother was a daunting task because she is a perfectionist. Soha, who plays Sharmila's daughter in the Sangeeta Datta's crossover film says that she had a scary experience working with her mother.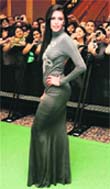 Love's on my mind…
I want to do a romantic film with SRK, says Neha Dhupia
Neha Dhupia, who had once famously proclaimed that only sex and Shah Rukh Khan sells in Bollywood, is in awe of the 'King Khan' and wants to do a romantic film with him. "Strangely, I haven't done a romantic film yet and I am looking forward to do one with Shahrukh Khan. I would love to act with him and I won't mind even if it is not a romantic film but I want to work with SRK," Dhupia said in an interview.

The 29-year-old actor, who is not happy at being labelled as 'sexy', plays a seductress in her latest outing Raat Gayi Baat Gayi, a film about three married couples and a one night stand. Neha portrays the character of an aspiring actress Sophia, a femme fatale.

Wedding woes
Infidelity exists yet marriages survive for a relationship offers much more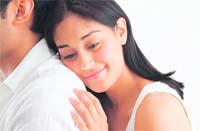 Tiger Woods' fall from grace in the wake of his 'linkup' with as many as 15 alleged mistresses has send the rumour mills in overdrive with practically everyone busy predicting the couple's future. Reports claim that philandering golf superstar's wife Elin Nordegren may stay in marriage for the sake of the couple's two children aged two and eight months. Herself a child of divorce, this Swedish model really believes in the importance of parents staying together, claims a friend.
Speech therapy
Speech and gesture make for a good communicator


We are always told that it's rude to point while talking, but a new study has a different take on the old manner- researchers have claimed that speech and gesture actually make up for good communication. Psychological scientist Spencer Kelly from Colgate University, along with Asli Ozyurek and Eric Maris from Radboud University Nijmegen, (The Netherlands) were interested in the interaction between speech and gesturing and how important this relationship is for language.
bond wagon
Together forever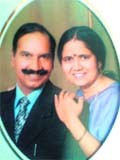 (BS & Anita Sharma)
Relationship: Life partners
Times together: 27 years
Same to same: Fond of travelling and shopping
Yet different: While BS loves to go for evening walks, Anita loves watching her favourite TV soaps
Unforgettable moments: A trip to queen of hills Shimla
Lucky charm: Three cute angels
Special something: My wife Anita is the most beautiful thing that happened to me. After getting her I have achieved all the goals of my life, says BS. Anita considers her hubby her strength
(BS Sharma is deputy manager in HMT and Anita is a teacher)
If you want to feature here, please email at lifestyletribune@gmail.com or mail on Bond Wagon, Lifestyle, The Tribune, Sector 29 Chandigarh along with a photograph and contact number
Renee Writes
at lifestyletribune@gmail.com or Life Style, The Tribune, Sector 29-C, Chd
Addicted to loneliness


I am 43 and come from an affluent family. I am married and have one son. My problem is that I suffer from severe depression. I have been on anti-depressant for almost 10 years. I feel I have become addicted to them. I feel very lonely and am always looking for company to make myself happy. I love going out. But then I get home to the same feeling. My husband is critical and I cry a lot as he is always trying to control my life. Is there any way that I can feel better? I feel most of my life has gone by and the few years that I have to live will also go by this way. I wish I could feel better and not have to rely on my medicine so much.
Reader's digest
Children who learn to read at age seven may be as good as children who learn to read at five, an expert claims. Sebastian Suggate conducted one international and two New Zealand studies, as part of the programme.After comparing children from Rudolf Steiner schools, who start learning to read from age seven, and children in state-run schools, who started at five, he found that the later learners easily caught up till the time they were 11 or out of primary school."One theory for the finding that an earlier beginning does not lead to a later advantage is that the most important early factors for later reading achievement, for most children, are language and learning experiences that are gained without formal reading instruction," he said.
Laser time
Numero Uno, the Denim wear brand, has introduced its super premium range of denims, Espania. This collection is being designed using special laser techniques from Jeanologia Spain that helps achieve the authentic lived-in and used look. Chic and ultra stylish, this collection is high on the fashion quotient and is ideally suited for both leisure as well as work wear.

Long boots are sure to add drama to your ensemble. And thanks to cushioning insoles, they are comfortable to wear as well. This week we bring to you boots to make a style statement

Birthday joy
¬¬¬¬¬


It was a day of free cakes for people who shared their birthday with Nikhil Mittal from Nik Bakers on January 6. A cake cutting ceremony was organised on this occasion in Sector 35.