Hard times for the hardback industry
Jonathan Brown

SOME of the biggest names in publishing have had a lousy season, posting spectacular sales falls in the run-up to New Year.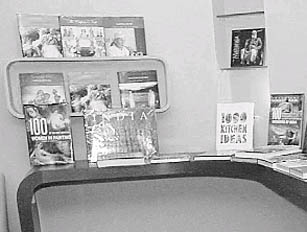 According to the figures from Nielsen BookScan published in The Bookseller, Ben Elton has seen a 45 per cent drop in hardback sales from last year, despite the publication of the comedian-turned-novelist's topical novel Meltdown, which was heavily hyped in the media.
The publishers of veteran horse-racing thriller writer Dick Francis saw his sales drop by a quarter, while Cecelia Ahern and James Patterson both plunged by a fifth. Former SAS soldier Andy McNab posted a drop of 15 per cent while Robert Harris has been flat and 15 per cent down compared to 2007, when The Ghost was published. Even stalwart stars such as John Grisham and Maeve Binchy have registered falls.
But while some lose, other names are thriving despite the harsh economic climate. The biggest winner of the season was Dan Brown, whose long-awaited The Lost Symbol sold more than a million copies in the UK alone since it was released in September last. The master of pseudo-religious intrigue joined JK Rowling and Delia Smith in notching up seven-figure sales in hardback.
Also enjoying healthy figures is Martina Cole, 30 per cent up this year after the publication of Hard Girls. Her personal brand was boosted by the television adaptation of The Take earlier in 2009. The cross-over vampire writer phenomenon Stephanie Meyer continues apace. Sales of books by Adrian Mole creator Sue Townsend were up 20 per cent.
Despite the impact of the recession, the data shows that (pounds sterling)133 m was spent on fiction titles in the three months up to the end of November, up 14 per cent. Even when the Dan Brown effect is excluded this reveals an upturn of 3.3 per cent on the same period in 2008.
Publishers agree 2009 was a difficult year. Alison Barrow of Transworld, which published Ben Elton and Andy McNab, said the travails of their leading authors can be explained by deeper problems within the publishing world as a whole. The industry lost some of the most important hardback retailers this year when Borders and Woolworths disappeared from the high street.
"Ben Elton is not on his own in this regard," Ms Barrow said. "It is symptomatic of sales across the board. It is no secret in the book trade that hardback fiction has become very polarised." But Liz Thompson, co-founding editor of BookBrunch, the online daily news service for the book industry, cites a more straightforward reason: "Writers go in and out of fashion. And you have to remember that the big numbers for many books of recent years were extra impulse sales. When money gets tight the business of just dropping a couple of books in the supermarket trolley stops." — By arrangement with The Independent