Beyond the IIT dream
Reviewed by Aditi Tandon
Zero Percentile
By Neeraj Chhibba.
Rupa.
Pages 220. Rs 95.

IT's when you think you have nothing left to learn that life teaches you the best lessons. Zero Percentile, a tiny, breezy piece of work by an untried author tells you how. A few pages into the plot and you know that Neeraj Chhibba will be tried again.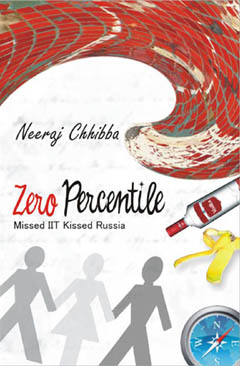 This first-time author, based in New Delhi and employed as vice-president, operations, with a leading software firm, doesnít come across as so much of a virgin at writing as the skeptical readers might think. He certainly has some promise.
That explains the credit line of the book, which hit the shelves in the last quarter of 2009 and has since flown off at a quicker pace than was expected. The work could well qualify as something of the Chetan Bhagat genre, which has inspired a generation of exciting new authors who work by the day and write by the night to cater to those with little patience, little time and a plenty of penchant for all things new.
That brings Rupa in, with Penguin already having dedicated a lot of its energy to Metro Reads, a fresh series that targets the young readers with fleeting attentions. Zero Percentile is Rupaís parallel to the works in that new genre which revels in the transience of the times we live in. Produced by a 38-year-old, it is no high frill stuff. It is simple and endearingóeasy and effortless to relate to.
Enter the plot, and it draws you in. Not at any point through the read do you feel the work is attempting to overwhelm you. It takes off simply from a nondescript hamlet of Hoshiarpur in Punjab (where having a son still means half the lifeís battle won) to Delhi, and finally to Volgograd, the Russian ĎCity of Heroesí, which made history in the Second World War by managing to halt Hitlerís assault on Russia.
It is in the last location that most of the novelís soul bares itself out. At heart, the book is all about hoping against hope, with Pankaj, the protagonist, presenting himself as someone of a hero to the thousands of young Indian students who grow up nurturing the IIT dream, only to find it shattered.
Pankaj too has his share of broken dreams as he misses the IIT race to destiny. But then he keeps his faith. Instead of giving in to the current, he takes on the tide and finds himself another shore sunnier than the one he had dreamed of being at. With him moves the story from carefree school days at Delhi, where the protagonist, with his two best friends, weaves strings of love. Itís the finest phase of his life, embellished with youthful romance and camps comedies. And like all things good, it ends shortly after.
The next thing in Pankajís life is Volgograd of the 1990s, which, like any other city of the collapsed USSR, is trying to cope with the pressures of market conversion from communism to capitalism. In the throes of a Russian crisis, a young Indian boy must study engineering and study it well, notwithstanding the pressures of hostel life, where being a non-Russian could sometimes cost a bit much and where brawn almost always prevails over brain.
As you trail the protagonist through his travails and tribulations across cities and continents, you find yourself becoming one with his pains and pleasures.
Thatís what Neeraj works at, making you part of his plot, which comes laced with dark, fascinating sub-plots of love, lust, betrayal, disease, fear, failure and feat. And he works very well, in a non-cerebral, conversational fashion which invites you in rather than pushes you out. Zero Percentile is worth a visit.