Rustic ramblings
Madhusree Chatterjee

Author Radhika Jha travels into the heart of rural India with a new novel

Journalist-cum-social worker-turned novelist Radhika Jha, winner of the French Prix Guerlain award, has journeyed into the heart of rural India— scripting a story of change—in her new novel Lanterns on Their Horns.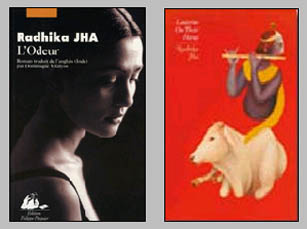 The book, published by HarperCollins-India, hinges on the "misconceptions and stigmas surrounding artificial insemination of cows in Indian villages and a clash of old world and new world ethics over a suicide".
"My book has been inspired by an image: a man on an Enfield motorcycle driving down a dusty unmetalled road with ice cold milk cans filled with frozen semen," said the Tokyo-based novelist, who was in the Capital to launch her book recently.
"The plot has nothing to do with the Bollywood hit Swades, starring Shah Rukh Khan, which is also about change in rural India. I believe I saw the movie, but can't remember the story. I never have a plot in mind when I write. If I know the end of a story before writing a book, I may not write it," she said, when asked if she was inspired by the movie.
Jha, who has studied in Paris and at the University of Chicago in the US, has worked at Business World and at The Hindustan Times as a journalist as well as the Rajiv Gandhi Foundation. She has written several books, including Smell, which was her award-winning debut novel followed by India, New Delhi, New Wave, L'Odeur and a collection of short stories, The Elephant and The Maruti.
"I never set out to a write a novel about a village in India, just as I never set out to write a novel about Paris. It just happened," she said, explaining the making of her book.
The plot of the novel is woven around an Indian village Nandgaon. Headman Gopal Mundkur is resisting change. He suspects that science, artificial insemination of the cows and the march of modern technology,will destroy the fragile harmony that binds Nandgaon and its people together.
But when Ramu, the village simpleton marries college-educated Laxmi, the daughter of a poor farmer, things go haywire. Laxmi's father's suicide becomes a bone of contention and shame.
The catalyst for change is Manoj Mishra, a failed Ph.D. in history, who adds to the chaos when he realises that he has found the solution to poverty in rural India, with artificial insemination of cows. The four characters—Mundkur, Laxmi, Ramu and Mishra—are thrown together in a confrontation of their beliefs and ideals which may result in life or death.
"The image of a man carrying frozen semen was put into my head by a friend who works with an NGO involved in artificial insemination. That fact that it was real, fascinated me. How was it that Indian farmers could accept their cows being inseminated with foreign sperm?" she said.
Jha said she visited several villages around Maheshwar and Khandwa in Madhya Pradesh while researching her book. "But Nandgaon is fiction because there is no village I know that has turned its back on modern science. Most villages are aware that they are second wives in the process of development," Jha said.
According to Jha: "Science can tell you how to do something, but it cannot tell you what to do."
"Politics decides the goals and that's why all humans are political animals, especially in rural India where the stakes are life and death," she said.
Jha feels Lanterns On Their Horns is "both anti and pro-development".
"While Laxmi was pro-development, the village headman was against it, but neither is a hero. Both are humans characterised by their inability to see the future," Jha said.
Jha's years as a journalist and her time at the Rajiv Gandhi Foundation helped her write, giving her "more insight and clarity into India", she said. And the reason why she writes is because of the "magic of reading".
"Reading opens doors to places which no one knew had existed before. I love Graham Greene, Gabriel Garcia Marquez and Amitav Ghosh," Jha said. — IANS