Chain reaction
Forget libraries, now borrow from book chains

LeNDING and borrowing of books is common among acquaintances. But ever imagined borrowing a book from a complete stranger? The British Council has struck upon such a concept, which it calls 'book chain', under which books can be borrowed and lent out free of cost even among strangers.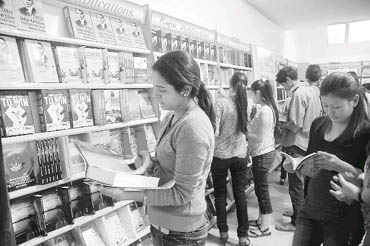 Launched recently for the first time in India on an experimental basis, the book chain will enable members from the British Council's Library (BCL) to lend out books to anyone, including non-members.
"After you finish reading the book borrowed from the British Council, you are expected to pass it on to someone else, so that others can also read it. In this way, we will create book chains by linking people together as the books are passed on from one person to another," Aparna Bhattacharya, manager, Young Audiences and Future Leaders of the British Council Library (BCL), said in Kolkata recently.
Interestingly, anyone who receives the book can be a part of the book chain without completing any formality or prerequisites.
"There are no geographical limits either. The book can be passed on even to someone living in another city or country," she said.
Citing the popularity of book chains in the UK and other countries, Sujata Sen, Director, British Council (East India), said, "In our 75th year in India, we thought it would be a good idea to choose the best contemporary books with a British connection and give them out to members." Chosen from a wide range of contemporary collection, the BCL has given away 75 books to its members for the purpose from each of its libraries in Ahmedabad, Bangalore, Chennai, Chandigarh, Hyderabad, Kolkata, Mumbai, New Delhi and Pune.
After a person receives a book from the chain, he is expected to fill up his details and geographical location on the BCL website and also enter a code written inside the book.
"This way anyone can track the status of the book online.
But we are not forcing anyone to follow our advice. It's more of a voluntary act," Bhattacharya said, adding the books would be passed by the BCL members to those whom they trust.
On their website, one can rate and comment on the book after reading it.
It is like a blog or an online community to give a platform to members of the chain to interact and share their experiences of reading, the official says.
The BCL also plans to award members of the longest book chain.
"Since this is for the first time the concept has been launched in India, we don't know how people will react to it.
We will study this for the first six months and then decide whether to make it a permanent affair," she
said. — PTI