The President is Coming now in book form
Having done around 100 shows as a play and later as a movie starring Konkana Sen Sharma, The President is Coming has taken an entirely different route.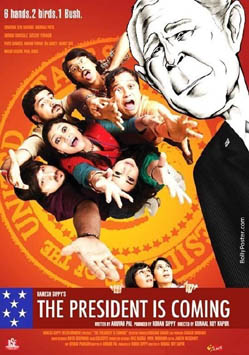 It has now come out in book form and writer Anuvab Pal says that this is the last part in its artistic rendition.
Pal said the crux of the story for the play, film and now the book is about six young Indians vying with each other to shake hands with former US President George W. Bush during his visit to India.
"The only difference in all the three formats is the manner in which the story is narrated. When I thought of the story in 2007, Bush enjoyed a different image in India when the whole world hated him. Reality TV was booming and I wanted to explore the minds of young people in new India," he said dwelling on the idea behind the story.
Pal, who has earlier scripted Loins of Punjab presents, said The President is Coming was a low-budget English language film and was released only in few theatres in Mumbai and Delhi.
"The film, actually slated for a November 2008 release, was postponed till January this year. We lost out on advertising budget due to the 26/11 terror attacks," he said.
Both Pal and director Kunal Roy Kapur said that they and the producer Rohan Sippy are not planning a re-release and making it again on a larger scale.
"For us, the story ends here," they said. — PTI