Beyond the uproar
After all the media storm and fury in the Ruchika case subside, we may again be
left with the outdated laws and tardy process of justice, writes Aruti Nayar

ONCE all the media noise has subsided, with every one connected with the Ruchika molestation case getting their 15 minutes of fame or notoriety, what will remain will be the same outdated laws, the same dilatory tactics and the same subversion of the legal process.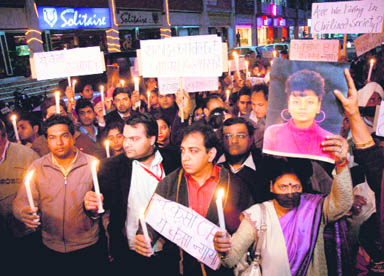 There is a need to go beyond candle-light vigils to bring about long-term changes in our machinery for justice
Photos: Manoj Mahajan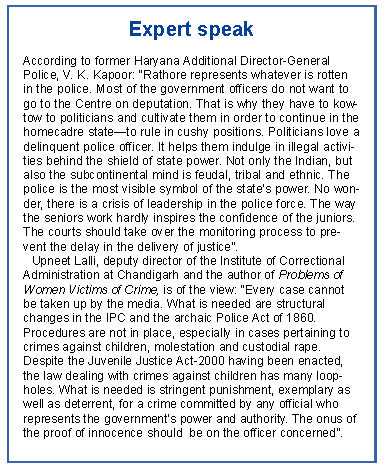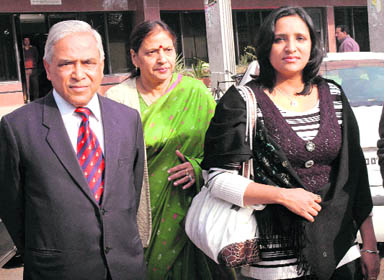 Not many common citizens fight against injustice
towards others like the Prakash family


Time line
August 11, 1990 — S.P.S. Rathore goes to Ruchika's house and asks her father to send her the next day to the office of HLTA.
August 12, 1990 — Ruchika and Reemu go to the office in the`A0afternoon. Rathore asks Reemu to go and call the coach. When Reemu`A0returns, she sees Rathore molesting Ruchika. They flee and do not report the matter.
August 14, 1990 — Ruchika and Reemu change the time of tennis practice to avoid Rathore. He sends a man to call Ruchika.
August 16, 1990 — Ruchika and her father and Reemu and her parents, along with others, give a representation to the CM and Governor.
August 17, 1990 — They meet the CM and are assured that action would be taken within a week.
August 18, 1990— An inquiry is marked.
September 3, 1990— Inquiry report indicts Rathore. Along with 178 annexures and the girl's statement, the report is given to the government. Action is sought under Sections 342 and 354. Rathore calls it a one-sided inquiry.
September 3, 1990-March 13, 1991— File is kept pending.
June 30, 1992-January 27, 1993 — Ruchika's brother Ashu is implicated in as many as six cases of theft and tortured by the police.
December 29, 1993— Ruchika commits suicide.
July 1997 — Madhu Prakash manages to get a copy of the inquiry report and moves the Punjab and Haryana High Court seeking registration of a case against Rathore.
August 21, 1998 — The High Court orders a CBI inquiry. Rathore challenges the HC order in the Supreme Court.
From September 10, 1998, to January 10, 1999 — After four months of`A0day-to-day hearing, the Supreme Court upheld the High Court order and directed the CBI to lodge an FIR.
November 17, 2000 — The CBI files charge-sheet against the Haryana DGP. During its probe, the CBI had written to the Haryana Government, urging it to remove Rathore in the interest of ''free and fair deposition''.
July, 2002—Rathore retires.
November 2009—Case transferred from Ambala court to the CBI, Chandigarh.
December 11, 2009—Court closes all final arguments and sets date for verdict.
December 15, 2009—Case adjourned till December 21.
December 21, 2009—CBI court gives six months' jail and Rs 1,000 fine to Rathore.

There will be two sets of laws, one for the powerful and another for the powerless. And when the media attention fades away, so will the concern of the people and their involvement. Why should it only require the media to keep alive our sensitivity toward issues that concern us all? If the media focuses on one case, that means the others, who do not have the fortune of being highlighted, will languish forever, waiting for justice.
In Ruchika's case, the justice or rather the lack of it, was an eye-opener. Which young victim of molestation will muster the courage to confront and report against the offender, especially if he is as powerful as Rathore?
Apart from being dehumanising, sexual violence is an unlawful intrusion into the sanctity of a woman and her right to privacy. It offends her dignity and self-esteem and leaves behind a trail of traumatic experiences.
Whenever the law has been silent on any aspect, interpretation and gender-just judgements have provided a ray of hope for the people. That is why courts are expected to deal with crimes against women with the utmost sensitivity. As former Chief Justice of India, A.S Anand, in his book Justice for Women: Concerns and Expressions writes: "A socially-sensitised judge is a better statutory armour in cases of crimes against women than long clauses of penal provisions containing complex exceptions and provisos".
Thus, one of the most important tasks a judge is expected to perform is to be sensitive, responsive and responsible. He must be creative and may create precedent where no law exists for women, but where it is needed. Judicial decisions can influence and under certain circumstances even compel the government to enact appropriate provisions to cover up the deficiency in the existing laws.
Even though the inquiry report conducted by former Joint Director of CBI, R. M. Singh, indicted Rathore, no action was taken and the young girl had to pay a price. Boys would pass obscene comments and often stalk her. The Rajput Sabha— SPS Rathore is a member of the Rajput community—took out a procession in front of her house, shouting slogans. She was called a girl of "loose moral character". In short, the victim had been, as it often happens, made out to be a culprit.
What does Ruchika's story tell us? It is foolhardy to take on the powerful. What can a common man do if the process of law is obstructed? You can knock and knock at all doors for justice, but the procedures are so tardy and amenable to manipulation that the whole process is self-defeating.
Simple, ordinary, middle-class people (neither ideologues nor fire-brand activists), the Prakash family, fought on with the intention of bringing the guilty to book. In an age of apathy and declining social conscience, they persisted with the arduous legal battle, that, too, for somebody who was not even directly related to them. Had the law of the land been a deterrent and not subjective, had it not been arm-twisted by the likes of the ex-DGP, there would not be a travesty of justice, too little, too late, an example of the total subversion of the entire system.
Anand Prakash had spoken to Ruchika when she told him that she wanted to pursue the case against Rathore. He had warned her that she would have to be really bold and brave to take on the might of the police chief. But she did not flinch. Her answer was: "Unless he is checked, many more girls would face a similar situation". Like the Prakash couple, for how many of us is it a matter of conviction that silence (out of fear or cowardice or both) is complicity?
How many of us have the courage and the daring to speak out and plough a lonely furrow? Perhaps that is why the collective voice is getting louder in the face of injustice. It affords us the anonymity, while giving us a chance to vent out our frustration, helplessness and rage against official apathy,
The media, in projecting this voice, is simply salvaging its conscience. But how many channels or newspapers are devoting their news space or airtime to digging up other such cases (which may run into thousands if not lakhs) of official apathy and/or exploitation, away from the comfort zones? There are so many people fighting battles, people who do not get either the support or the projection? Why should it take two decades for people to find their voice? The fact is that in the process of the commercialisation of the media, there has been a dumbing down and the space for discussion of social issues has shrunk considerably. Why should we, the people, too, wait only for the media to pitch in, light candles and launch signature campaigns? The middle class is so cosily ensconced in its own cocoon that once in a while it is shocked into the awareness of the flaws of the system. Otherwise, it is happy that its boat is not being rocked. What is wrong in activism as a citizen of civil society, even away from the TV studios?
The case should serve as an eyeopener for the common man. Even if the bureaucracy, politicians and the tedious process of law try to muzzle the voice of the common man, he should not capitulate. It is this abdication of social responsibility that fuels oppression. The refusal to speak out encourages the perpetrators of atrocities and they thrive on this fear. One must speak up even if it means putting up with inconvenience, facing trials and tribulations and putting one's life on hold.
What is amazing is how a person, responsible for enforcing law and order in a state, refuses to respect the course of law himself and waits until he is "proved" guilty. Probably, moral conviction does not matter. Everyone kept capitulating, no one offered resistance to Rathore and his oppression, no wonder he could afford to smirk.
Had an FIR been lodged in 1990 itself, Ruchika would not have been harassed and, as a consequence, not committed suicide. We should start looking at juvenile laws because a lot still needs to be done to change regulations in this regard to ensure that children's rights are protected.
Custodians of law need to understand that the law applies to them also. They are not above the law. Rathore has misused his position of power and also further abused the family by terrorising them. The overwhelming feeling is "public pressure can change things". But we must not forget that public pressure is fickle, arbitrary and volatile. What will endure is enduring laws, implemented for all, without fear or favour.