Basu's secret Punjab visit
When the Emergency was imposed by Indira Gandhi, Jyoti Basu travelled from Kolkata to Jalandhar by train under an assumed name to avoid arrest, writes Sarbjit Dhaliwal

ONE of the most well-kept secrets of the life of Marxist patriarch Jyoti Basu is that he spent three days at a farm of a senior Akali leader in a village near Jalandhar to attend a meeting of the politburo of the party.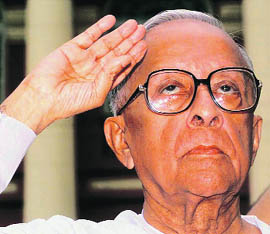 Jyoti Basu was so much fascinated by farms in Punjab that he stayed most of the time at the farmhouse of top Akali leader Kuldip Singh Wadala

Way back in 1975, when the Emergency was imposed by the then Prime Minister Indira Gandhi, Comrade Jyoti Basu, who served as Chief Minister of West Bengal for a record 24 years, travelled from Kolkata to Jalandhar in Kashmir Mail under an assumed name to avoid arrest on the way. Other top leaders of the CPM joined him at Jalandhar.
Jyoti Basu was so much fascinated by farms in Punjab that he stayed most of the time at the farmhouse of top Akali leader Kuldip Singh Wadala.
Wadala, who played host not only to Jyoti Basu but also to other underground politburo members of the CPM for three days at his Wadala village, in the outskirts of Jalandhar, still cherishes the days he spent with Basu. EMS Namboodripad was a scholarly person, says Wadala.
As Mrs Gandhi had directed the police authorities to put all political leaders opposed to her and the Emergency behind bars, the police was also on the lookout for top CPM leaders. Wadala was told by his long-time friend Harkishan Singh Surjeet to make arrangements for holding the politburo meeting of the party at a place where the police should not be able to lay hands on them. Arrangements were made by Wadala at his residence in the village to host the meeting. P. Sundarayya, first general secretary of the party, who resigned in 1978 after the Emergency, making way for Namboodripad to replace him, P. Ramamurthi, M. Basavapunniah and A. K. Nayanar had also attended the meeting.
The comrades held discussions on the Emergency and related political issues at Wadala's residence. Jyoti was surprised how Wadala was bearing the expenditure on playing host to such a good number high profile persons. So he asked Wadala about the source of his income. ''I told him that I own a good chunk of land,'' said Wadala, adding that Basu expressed the desire to spend time at the farm.
After such meetings, Basu spent most of the time at the farm. In fact, Basu also asked Wadala to arrange for a photographer as he wanted to take the photos back to West Bengal. Basu got himself photographed in front of a tubewell along with family members of Wadala.
''At night, I used to transport them to different places to stay with my close relatives to ensure that in case of any police raid, all should not be arrested together,'' said Wadala, who was later arrested because the Akalis had launched a morcha (agitation) against the Emergency.
After spending three days, the comrades left for different destinations.
When the police conducted a raid to arrest Surjeet from Bundala village, near Nakodar, on the night of June 26, 1975, when the Emergency was imposed, Surjeet's ankle got sprained when he jumped from his rooftop to avoid arrest.
The police failed to arrest him. Said Wadala: " The next day he rang me up from some friend's house, and I brought him to my place to get his ankle bandaged. A few days later Surjeet recovered. He disguised himself, and presented the look of a farmer. I took him to a farmhouse near Saharanpur in UP. He stayed there with a grandson of Baba Karam Singh Cheema, a freedom fighter.
Those were the times when strong rivals in the political arena used to be otherwise good friends. Politics at that time was a commitment to serve people and the country. Today it is a lucrative business."