Leading singers stifled my voice: Mubarak Begum
Vilas Tokale

HERS was a voice that enthralled millions, a voice that she claims, was stifled by her contemporaries in the Hindi film industry.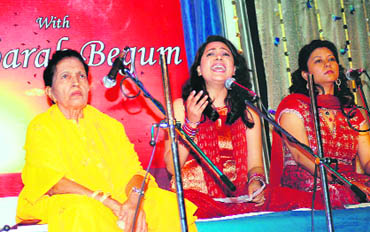 There are some ardent fans who still invite Mubarak Begum (extreme left) for functions. Recently, there was a function in Jaipur where other singers sang her numbers

Mubarak Begum, the voice behind evergreen hits like "Mujhko apne gale lagaa lo, O mere Humrahi" and "Kabhi tanhaiyon mein yun hamari yaad aayegi", says she became a victim of the politics in the film industry.
"I donít want to name them. Everyone knows them. They snatched away work from me, ensuring that no music director or film-maker ever gave me any," laments Mubarak Begum.
The 70-year-old singer lives in penury in a small house of the Behrampauda area in western suburb of Jogeshwari in Mumbai, with an ailing daughter and a son, who drives a taxi.
"Itís a struggle to take care of the grocery, phone and electricity bills," she adds.
A singer long forgotten by the film fraternity, she mesmerised an entire generation of music lovers with her immortal numbers like "Mujhko apne gale lagaa lo, O mere humrahi" from film Humrahi and "Bemurrawwat bewafa begana dil" from Susheela.
Widely appreciated in the 1950s and the 1960s, Mubarak Begum did not attain pole position in the Hindi mainstream movies. "Music composers wanted to give me work but these singers, who later became globally famous, ensured I did not get work as it would have meant competition," she rues.
"I had no godfather in the film industry. Mukesh had Raj Kapoor, Mahendra Kapoor had B R Chopra... there was no one for me," she adds.
After all these years, does she bear a grudge against her contemporaries, who "ruined" her career? "I trust that Allah rewards those who do good and punishes those who snatch other peopleís livelihood," she said.
"They (her detractors) told the music composers, if you let Mubarak Begum sing, we would not work for you."
The versatile singerís number "Hum Haal-e-dil Sunaenge" in Bimal Royís Madhumati (1958) is still remembered even 50 years later. Even though many other such popular numbers had music aficionados wanting for more, the film fraternity has turned a blind eye to her plight.
Her daughter Shafaq Banu, 41, is bedridden with advanced stage of Parkinsonís disease. "It is a tough task arranging for her medicines or meet the household expenditure. I also have a constant back-ache and waist pain for which I need to take medicines regularly," adds Mubarak Begum. Born in Sujangarh, Churu, in Rajasthan, the singer spent her childhood in Ahmedabad and Vadodara before her father, a fruit vendor, noticing her singing talent, decided to shift to Mumbai.
"My father thought I would get work here. In Mumbai, initially I sang ghazals for the All-India Radio and music composers took note. I started getting work," she recalls.
Actor-politician late Sunil Dutt helped her to get a house. "I went to meet Dutt saab. He did not know me although I had sung in the 1955 Sohrab Modiís film Kundan, in which he acted. After someone told him about me, he was delighted and said, ĎI sang very well and that I preceded even Lata Mangeshkar in the industry,í" she reminisces.
"Then Maharashtra Chief Minister Vilasrao Deshmukh sanctioned this house (in Jogeshwari) to me seven years ago from the Chief Ministerís discretionary quota," adds Mubarak Begum.
"I had no money to pay for the (new) house. Lyricist Javed Akhtar and Shabana Azmi raised the money."
"When I recorded songs, we got between Rs 150 to Rs 500 per film," she says. "I must have recorded between 500 to 1,000 songs, including in Hindi, Gujarati and also Rajasthani folk songs," she adds.
"There are some ardent fans who keep calling me for some functions. I recently went to Jaipur where everyone recalled my career."
What does she think of todayís Hindi film music?
"Today, there are no songs... itís all a tamasha (farce)," the singer laments, adding she doesnít listen to the latest music churned out in Bollywood.
"What keeps me engrossed are the saas-bahu serials on TV," adds the singer. ó PTI