Enduring human drama
Sourav Sarangiís Bilal tells the unusual story of a little boy, who helps his family
face the challenges of life, writes Shoma A. Chatterji

BILAL (2008) is about a three-year-old boy called Bilal, born to blind parents Shamim Akhtar and Jharna, but with normal vision. His little brother Hamza is also sighted. The family lives inside an 8x10 partitioned room in central Kolkataís Taltala in a predominantly Muslim neighbourhood. The room is in tatters and almost completely in the dark. This does not matter to Shamim and his wife because they cannot see anyway. Nor does it make much of a difference to Bilal because he has been born and is being brought up in these dark surroundings. When filmmaker Sourav Sarangi steps into their lives with his crew, Bilalís face lights up with brightness because there is some bright light now and there is some variety in his life. Not that he is desperate for variety. He has the unique ability to draw the last drop of joy and fun out of his life. He is not aware of the squalor. It is the innocence of the child that draws us again and again to close-ups of his ever-smiling face and those wonderful, big eyes that infect all who see him smile.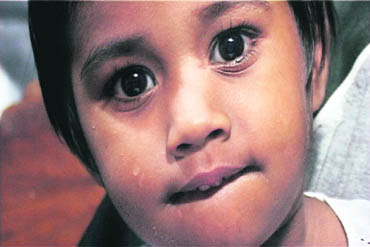 The biggest quality that makes Bilal stand out is its no-nonsense approach of direct participation in the familyís joy and pain

Sarangi, an FTII alumnus in editing, earlier made Bhangon (2006), an investigative documentary of 60 minutes on river erosion in eastern India causing environmental disorder and migration of innocent victims. His debut film Tusu Katha (The Tale of Tusu) (1997), was an ethnographic documentary on traditional Indian rural life of women engaged in a harvesting ritual called Tusu. Bilal is an India-Finland co-production with support from the Jan Vrijman Fund, Amsterdam, Official Development Aid from the Ministry of Foreign Affairs, Finland, and in association with YLE, Finland. It has won awards at 14 national and international festivals so far and has been screened in some more.
For Bilal, his little brother Hamza and their parents, life is like a hide-and-seek game of seeing and not seeing. Bilal knows his parents are blind. He communicates with them through sound and mainly, through touch. He is ever-smiling, naughty, full of pranks and teasing, crying like any other kid when his mother bashes him up, non-chalant when his tutors beat him for not paying attention to his lessons. He often escapes outside when his parents chase him for teasing his kid brother, only to be bashed up by the older children of the neighbourhood. But he tries to give them right back, and when he cannot, he begins to cry. The film tells this unusual story by observing the little boy over a year and capturing him in rare moments of sharing love, fun, cruelty and hope. In his own way, he helps his family in the challenges of life. Sarangiís dynamic camera observes the familyís day-to-day life, a poignant blend of`A0love, fun, and cruel disappointment. The film ends on a note of hope. The camera tracks the family moving away in the bright light of the streets of Kolkata, their backs to the camera, to try and build a new future with a new make-shift telephone booth on the streets.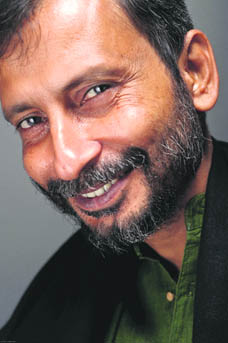 Sourav Sarangi and his crew became a part of Bilalís family for one year

"I met Bilal in a hospital bed through my wife when he was just eight months old. He fell and had a severe brain injury. I stood in silence and looked at the boy struggling for life, the blind mother holding him tight. Bilal looked at me for a long time and then smiled. He touched his mother gently and that is how she knew I was there. I felt the magic of the touch and saw those beautiful eyes of Bilal ushering love and hope in moments when darkness rules. This film is a rough assembly of my moments with Bilal collected between September 2005 and December 2006," says Sarangi, who edited the film himself. His complimentary crew was comprised of Somdev Chatterjee, Pankaj Seal, Tapas Ganguly and Ayan Bhattacharya.
Small vignettes hold up a mirror to a dark side of life we are not even aware of. The filming begins when Bilalís third birthday is to be celebrated with a small cake, three candles, and a small crowd of children and adults clapping away as he blows on the candles, looking surprised and happy. We see a thrilled Bilal wearing a cute cap and a new sherwani in celebration of Eid over a pair of red shoes the unit has gifted him with. We hear the sound of temple bells in the distance. The chants of the Holy Azaan float in often from the nearby Masjid. The sound of a bottle breaking, tins being dragged across the floor, is juxtaposed against the bed dotted with the kidís vomit or urine or milk from the bottle. There is an insightful shot of everyone crowding around a black-and-white TV set when Khalnayak is being telecast. The yellow signboard of Shamimís shutdown telephone booth stands silently as a sign of better days. Jharna lies in bed only once during the film because she is back after an abortion. But there is no money for medicines. In a touching moment, she asks Sarangi for a small loan. "I had told them that I would contribute to their expenses whenever I would be shooting in their home. I took food and medicines when the kids fell ill. I set aside money received for the film from the Dutch IFDA Jan Vrijman Fund for the family," detail Sarangi.
The biggest quality that makes Bilal stand out is its no-nonsense approach of direct participation in the familyís joy and pain. The camera is as much a character that is as dynamic and action-filled as the subject it is capturing ó Bilal and through him, a microcosm of the society he lives in ó blind parents, little brother, neighbourhood friends and absolute squalor. Sarangi and his crew become a part of Bilalís family for one year. Shamim and Jharna begin to confide in him and Bilal becomes friends with the entire team. There is not a moment when the film is hierarchical with the director calling the shots and deciding what he will shoot and what he will not, or tailoring his shots in a particular way to adjust to a definite design or target audience. One cannot always see the crew but the voiceovers are clear. "What is wrong with Jharna?" Sarangi asks Shamim when Jharna is in depression. There is no patronising, no pontification and no marginalising the subject of the film. Nor is there any attempt to politicise Bilalís condition to try to evoke the sympathy of the viewer. "I did not have any crisis to resolve. The film is about Bilalís days and nights and that is all I had decided to focus on," Sarangi sums up. Ironically, Bilal has been kept out of reckoning by the selection panel from being screened at the forthcoming Mumbai International Film Festival of Documentary, Short and Animation Films to be held in February this year.