Film it like Phalke
Paresh Mokashi's Marathi film Harishchandrachi Factory, India's Oscar entry
this year, is full of exuberance of the soul, writes Shakuntala Rao
IN 1910, Dhundiraj Govind Phalke, better known as Dadasaheb Phalke, went to a Christmas cinema show in Bombay. He watched a short film The Life of Christ. While Phalke was not particularly impressed with the quality of the filmmaking, it was the subject matter that caught his attention. Being a devout Hindu, Phalke's wife would later recount, "He mentally began to visualise bringing the images of Rama and Krishna to the screen."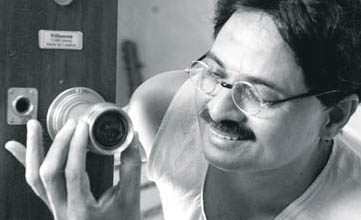 Paresh Mokashi's Harishchandrachi Factory, based on the making of Dadasaheb Phalke's first film, charts the rise of the artiste

After his return from England in 1911, where he learnt cinematography, Phalke began making his first feature, Raja Harishchandra, which was to change the course of Indian cinematic history and give birth to the world's largest film industry.
A little-known Marathi film Harishchandrachi Factory based on the making of Dadasaheb Phalke's first film, has been picked as India's entry in the foreign film category for the Academy Awards 2010. It is one of the few occasions when a regional language movie has been showered with as much attention and appreciation, but debutante filmmaker and stage theatre veteran, Paresh Mokashi's film is the first of its kind in the landscape of Indian cinema.
The film opens in 1911 Bombay where Phalke (Nandu Madhav) has abandoned his established printing business and is content clowning around the Girgaum chawl where he lives with his wife Saraswati (Vibhawari Deshpande) and two sons. We meet the quirky middle-aged father of two, who has dabbled in various odd jobs, even playing a magician to a bunch of school kids, using his elder son as part of the act, a magician with a stage name of Kelpha, delightfully inventive as the reverse of Phalke. His inclination towards images draws him towards films; he settles for the story of Raja Harishchandra, a mythological fable from Mahabharata and also a popular play of the period, as plot for his film.
Putting together a team of actors and technicians turns out to be no easy task. Phalke seeks female actresses but women of respectable society see the new medium as something to be shunned, even the prostitutes he approaches refuse. Eventually, he finds a young man working in a restaurant, an effeminate cook with slender features and hands, called Salunke, who would later become Indian film industry's first 'superstar'. Upon completion, the seven-reel film, about 40 minutes long, is screened at the Coronation Theatre in Bombay on May 3, 1913, turning out to be a runaway success.
Mokashi's film has little resemblance to the standard Hollywood biopic genre films; he is uninterested in any psychological hand wringing about Phalke (as we have seen in films like Richard Attenborough's Chaplin or Tim Burton's Ed Wood) or pile his film with episodic ups and downs of Phalke's real life. Instead, he tells the story of Phalke's life as an adventure, layered with light humour, portraying a filmmaker who was, in reality, eccentric and sharp with an unbridled passion for cinema. With a mixture of candor and tender sympathy, Mokashi charts the rise of the artiste, taking note of the obstacles and opportunities offered by his time, place and circumstances.
The influence of Italian neo-realist style of minimal storytelling is evident through Harischandrachi Factory as is a strong touch of Chaplinesque humour, especially in the spirited dialogue-free montage sequences. This is no lavish heavy-handed costume period drama. This is lightweight absurdist comedy at its best. One cannot help but notice that there's a curious evanescence to the movie, it's wacky, amusing, and that's about it. But Mokashi is not interested in giving his audiences philosophical conundrums or history lessons and if he does, it is all in jest.
Devoid of any song-dance numbers, Anand Modak's musical theme piece is brilliant and Amalendu Chaudhary's camerawork needs to be commended for its fluency but the film works largely because of the compelling and convincing presence of Phalke created by Nandu Madhav. Madhav's Phalke avoids the easy prefiguring of character study that deadens so many film biographies. Portraying an imaginative, compulsive, rigorous workaholic man bursting with confidence, Madhav is extremely poised in his performance. Harishchandrachi Factory has no stars, an obviously tight budget with zero frills, but it has exuberance of the soul. Its fate at the Oscars remains to be judged.